Incredible Crispy Hariyali Dosa Recipe!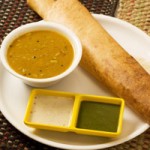 A popular breakfast recipe of Andhra Pradesh, Green Dosa or Hariyali Dosa is nothing but Pesarattu and is usually served with Upma. It is prepared out of green moong which is loaded with goodies like vitamin A, B, C. It is also rich in iron, calcium, potassium and vegetable proteins which help to shred the extra pounds from your body.
1 cup soaked green moong
1/2 cup finely chopped spinach
1/2 cup rice flour
1/2 cup nachani flour (ragi flour)
1 tbsp chopped coriander
1 tbsp ginger-garlic paste
Green chili paste as per taste
Salt to taste
A pinch of hing powder
1/2 tsp crushed cumin seeds
1/2 tsp garam masala powder
1 tsp lemon juice
1-2 tsp vegetable oil.
PREPARATION:
Grind all the above ingredients (except oil) by adding a little water till you get a dosa-batter like consistency. Mix well
Heat a nonstick tawa and pour a ladleful of batter and spread in a circular motion to get a thin dosa
Pour a little oil along the edges while cooking. When crispy, fold over and serve hot
Serve with dahi/any chutney/sauce
Have this Authentic South Indian Coconut Chutney with this Hariyali Dosa.