Craving for a chutney which is neither too tangy yet full of flavours?
Try the coconut chutney – a super interesting accompaniment for your food, particularly when you are in a mood to have some South Indian dishes like dosas, idlis, appam, neer dosa, uttapam and even whole rice preparations like lemon rice, tamarind rice, etc. Coconut chutney always does the trick!
Coconut is probably one of the most versatile produces we Indians can boast about.
This nut has gradually found its way to various cuisines for it never fails to spread its uniquely robust and rich flavours wherever it goes.
Get FREE Health Consultation Today!
Ranging from cuisines as Indian, Thai, European, Mughlai and many others over decades have given coconut its well-deserving respect.
Furthermore, it has its auspicious value also and that is why you will find its presence during almost all auspicious occasions in an Indian Hindu household.
So what makes coconut one of the most popular ingredients of Indian cooking?
Is it just the taste or is there more to it? With the world moving towards adopting fitness as an essential part of lifestyle,
it is needless to say that coconut has maintained its topnotch position in the food chart because of its health benefits, which we are going to read up about later in this article.    
So let us begin with an interesting recipe for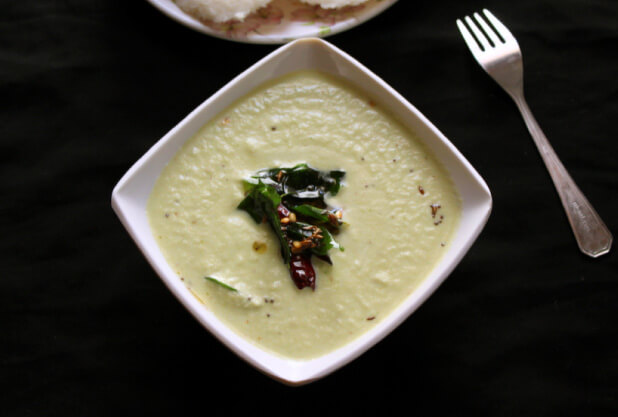 Coconut chutney – undoubtedly one of our favorite condiment for many of our delicacies. We will also give you a few twists you can introduce in the traditional coconut chutney.
South Indian Coconut Chutney
Ingredients
1 cup grated coconut

2 small green chillies, chopped

1 tsp grated ginger (adrak)

1 tbsp roasted chana dal

salt to taste
For The Tempering
1/2 tsp mustard seeds (rai / sarson)

1 red chilli, broken into pieces

8-10 curry leaves (kadi patta)

1 tsp oil
Method
To start making coconut chutney, put the coconut, green chillies, ginger, roasted split gram and salt in a blender with a little water and grind to make a fine paste. Keep aside.

Prepare the tempering by heating the oil. To this, add the mustard seeds, red chilli and curry leaves and keep stirring till the mustard seeds crackle. Pour this tempering over the chutney and mix well.

Serve with your dosas, appam, idlis, uttapam or even parathas.

To make the coconut chutney healthy, interesting and colourful, you can add beetroot puree to the coconut chutney while blending. This will give you a nice reddish pink colour to your coconut chutney. You can also add coriander leaves while blending.

To enhance the existing awesome flavour of the coconut chutney, you can add a bit of Kasoori Methi to the tempering. This will give a rich flavour to the coconut chutney.
Benefits of making coconut a part of your diet
So now that we have given you the traditional coconut chutney with a few tweaks to make it more interesting and healthy, here are 12 awesome health benefits of making coconut a part of your diet, be it in its raw form, coconut chutney, coconut water, coconut oil, coconut flour and so on!
1. Amalgamation of Healthy Fats
Coconut is made up of a high amount of saturated fats which are harmless to health. The fatty acids in coconut are absorbed by the body in a different way.
They enter the liver straight where they get converted into ketones. This may have a positive effect on brain ailments like epilepsy and Alzheimer's.
Coconut oil is catching up big time in the health space today for its numerous health benefits.
2. High in Fiber Content
Coconut is found to be high on dietary fibre, which in turn reduces the risk of developing diabetes.
3. Helps in Controlling Diabetes
Coconut plays a role in improving insulin secretion and utilization of blood glucose, which helps in controlling diabetes. It also slows down the increase of blood sugar in the body [1].
4. Coconut Water Boosts Immunity
Coconut water is known to boost immunity in the human body because of its antiviral, antifungal, antibacterial and antiparasitic properties.
Intake of raw coconut can treat ailments like throat infections, bronchitis, urinary tract infection, tapeworms, etc. It can also remove bacteria that cause gum and urinary tract infections [2].
5. Coconut Helps You Get Rid of Belly Fat
It is no hidden fact that belly fat or abdominal fat or visceral fat is the worst form of fat that gets accumulated on your body.
The good news is that coconut in its various forms helps combat with this stubborn fat and helps you maintain your health.
The ketones in the coconut oils metabolize the fatty acids and curb your food cravings thus helping you get rid of the stubborn belly fat.
6. Coconut Helps in Treating Epilepsy
Because of the high content of ketones in coconut, it is considered as a low carb diet which is used to cure various ailments, including epilepsy in children [3].
Kids suffering from epilepsy are advised to consume a diet low in carbs and high in fats, which increases the content and concentration of ketones in their bodies.
Get FREE Health Consultation Today!
This diet helps in treating epilepsy as well as reducing the frequency of occurrence of seizures in epileptic children.
7. Coconut Combats Cancer
Coconut possesses anti-cancer properties and is beneficial in treating various types of cancers including colon and breast cancers.
Coconut oil also helps in neutralizing the horrendous side-effects of chemotherapy [4].
8. Coconut Water Keeps You Hydrated
It is a known fact that coconut water contains vital electrolytes that help in maintaining hydration. People who take up heavy exercises should make it a point to include coconut water in their diet.
It is also particularly beneficial for pregnant women as it provides them wholesome nutrition in one go. Coconut water also helps in curing heart burns and acidity, which becomes a regular feature during pregnancy [5].
It also boosts the levels of amniotic fluid to improve the overall health of the fetus.
9. Use of Coconut Improves Blood Cholesterol and Blood Pressure
Coconut is also known to lower blood cholesterol in the body thus, in turn, lowering the risk of heart-related diseases . It is also known to improve blood pressure levels.
10. Coconut Water Improves Oral Hygiene
You should use coconut water to rinse your mouth and teeth instead of plain water at least twice a week. Doing this kills mouth bacteria, reduce bad breath and improve the overall dental health.
Chewing raw coconut supports development and maintenance of healthy bone and teeth. Coconut also prevents osteoporosis, a condition in which bones become thin and fragile.
11. Regular Use of Coconut Oil Fights Dryness of Skin
Massage your skin with coconut oil to do away with dryness and flaky skin. Coconut oil keeps the skin nice and supple and also well moisturized [7].
It helps prevent and treat neurosis, which is characterized by a dry, rough and flaky skin. Coconut oil gives you healthy skin with strong immunity against common bacterial and fungal infections.
Add a few drops of coconut oil to your bathing water every day and see the difference in a couple of days.
12. Prevent Scalp Infections Through Coconut
Apart from maintaining skin health, coconut oil also works towards development and maintenance of healthy hair and scalp [8].
The antibacterial and antifungal properties of coconut protect the scalp from dandruff, lice and itchy scalp. The high content of Vitamin K and iron in coconut oil helps in maintaining hair health.
This is all for now. Start making the ever healthy and versatile coconut part of your diet and skin & health regime and see the difference for yourself.
For more information on how to obtain health from real and day-to-day foods, contact our Possible Nutritionist today.  The first consultation is on us. Click here.
Get FREE Health Consultation Today!
Next Read  :