Medically reviewed by  Krupa, A Postgraduate in Food Science & Nutrition
High-fiber foods are one of the most important food groups that we must include in our diet since these foods help in regulating numerous body functions. The most important role of high fiber foods is their ability to relieve constipation.
Besides that, high-fiber foods are among the most potent foods when it comes to weight loss. This is because these foods help you bulk up on dietary fiber which increases the satiety and thus limits the calorie intake and hence promotes weight loss and improves your health overall. [1]
Table of Contents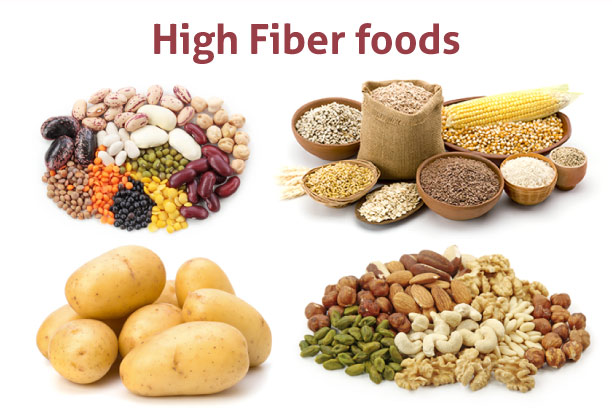 10 High Fiber Foods
Apples, bananas, oranges, strawberries

Raspberries

Exotic fruits

Dark-colored vegetables

Potatoes

Nuts and seed

Whole-grains

Legumes

Avocado

Oatmeal 
How does a high fiber diet increase weight loss?
A high-fiber meal takes very long to be chewed, so you eat less. They also take a long time to digest, very slowly releasing sugar into the bloodstream, so you feel fuller for longer.
High fiber foods also tend to have fewer calories (only 2 kcals per gms) and are rich in antioxidants and micro-nutrients. These two play a vital role in weight loss and help you fight disease and infections. [3]
4 Ways how high fiber foods help in weight loss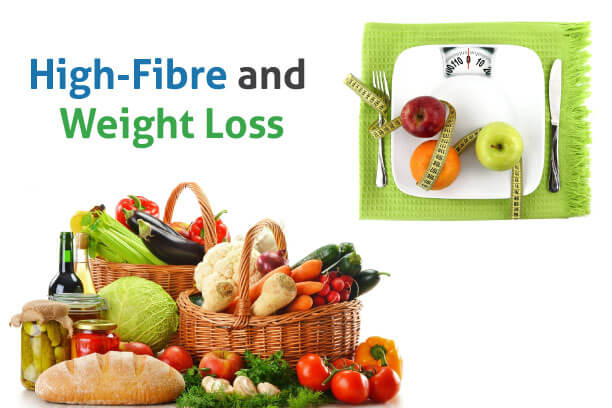 How does high-fiber food aids in weight loss? Here are the four main functions and benefits of high-fiber foods. 
1.

It keeps the stomach full
High fiber foods fill up the stomach and hence control your hunger pangs. Therefore, your daily food gorging will lessen up and you will also be able to avoid unhealthy snacks. [4]
2.

Reduces fat storage
High-fiber foods contain both soluble and insoluble form of fiber. Dietary fiber (insoluble fiber) basically helps in flushing the fat out of the body as fiber binds with the fat and removes it unabsorbed out of the body. 
Soluble fiber forms the inside the gut and this gel formation reduces the rate of sugar absorption into the blood and hence lowers the blood sugar level. This, in turn, lowers insulin levels which help in reducing stored fat(triglycerides) in the body. [5]  [6]  [7]
3.

Reduces body inflammation
High-fiber foods are known to help beneficial gut bacteria, which release certain substances that reduce the levels of body inflammation.
One of the major impacts of inflammation in the body is that it reduces the effectiveness of the weight control hormone, Leptin. Hence high-fiber foods help in weight loss by reducing body inflammation. [8]  [9]  [10]
[sc name="InlineBlogForm"] [sc name="Amp-bmi-widget" ampUrl="https://possible.in/high-fiber-foods-help-weight-loss.html"]
4. Reduces appetite
The soluble fibers in the high-fiber foods form gelly like substances, mentioned above. This gel then covers the gut and slows down the process of stomach emptying.
This also increases the time of digestion and hence reduces the appetite[4].
Did you know?

Oatmeal is a good source of fiber.

Oatmeal has soluble fiber, a type of fiber that is very beneficial for your heart.

It is an excellent source of fiber on its own, but you can further boost the fiber content by adding blueberries, sliced bananas, diced apples or any other fruit.
High fiber fruits
Fruits are one of the foods that are rich in fiber and frequently recommended for consumption during weight loss process. Here we list a handful of high-fiber fruits that can aid you in weight loss.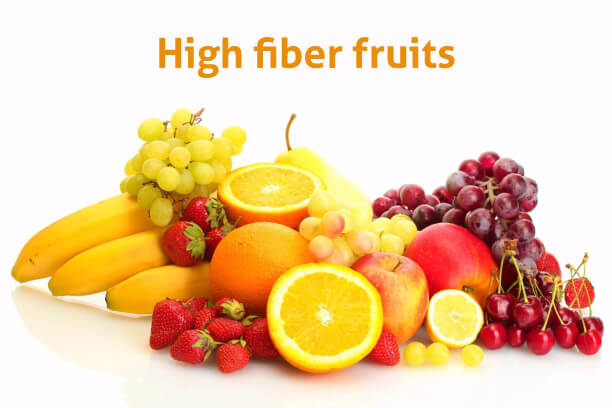 List of High fiber fruits
Apples

Bananas

Oranges

Strawberries

Grapes

Grapefruits

Mangos

Peaches

Plums
Besides being excellent for weight loss, there are numerous health benefits of fiber. From reducing the risk of formation of kidney stones to increase the absorption of different nutrients, fiber can do wonders when eaten regularly.
Note: The skin of the apple has the most fiber in it. Raspberries have around 8 grams of fiber, mango has 5 grams and 1 cup of guava has about 9 grams of fiber. 
[sc name="AMP Inline video with Form"]
Three important benefits of following a high-fiber diet plan:
Besides helping you keep your overeating in check, high-fiber foods have a host of other benefits.
Your bowel movements are better regulated if you eat a high-fiber diet.

Eating foods high in fiber ensures that your blood sugar and bad cholesterol levels in the blood remain low, thus protecting your heart.

It has been observed that eating fibrous foods before a meal decreases the amount of food intake overall which helps you control your obesity and results in weight loss.
Nine diet tips to increase fiber intake
Looking for fiber supplements? We bring to you the following tips to increase your fiber intake through our daily diet.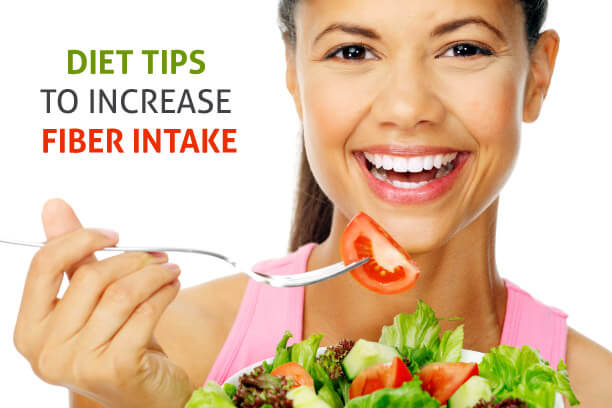 Instead of drinking fruit juices, opt for whole fruits. If possible, eat the skin too.

Start any meal with a portion of salad. This usually takes you 10 minutes to eat, so you can limit your intake of food by eating a salad. Further, as you eat you will realise that it takes 20 minutes for your brain to realise that your stomach is full.

Refrain from eating refined flour and choose whole grains such as whole wheat flour. This means saying a big NO to biscuits, though you can eat oatmeal cookies and whole-grain biscuits as they are high in fiber.
Add a dash of soaked almonds, walnuts, flax seeds or fenugreek seeds to your meals to increase your fiber content.

Drink vegetable drinks or soups before a meal, and eat green leafy vegetables to enhance your intake of fiber. 

Adding bran to your flour will act as a natural fiber supplement.

Replace white bread with brown bread and white pasta with whole-grain pasta. Include oats in your diet.

You don't have to sacrifice taste for health but use both judiciously and innovatively so that you get the double benefit of good taste and good food.
While it is always great to increase the amount of fiber you consume daily, it is always advisable to check with your dietitian first. They will be able to guide you in the right direction so that you get much better results.
So the next time you do grocery-shopping, ensure that you have laden your basket with high-fiber foods.
FAQs

1.How much fiber is too much in a day?

An average male can have 38 grams and an average female can have 25 grams of fibre a day. Exceeding more 70 grams a day can cause constipation, bloating and other issues.

2.How can I get 25 grams of fiber a day?

Including foods in diet like fruits, nuts, seeds, vegetables and whole grains will provide the necessary fibre content.

3.What happens if you don't eat enough fiber?

Lack of fibre will disrupt the digestion process and can lead to severe constipation, stomach pain, loose/hard stools and irregular bowel movements.

4.What breakfast foods are high in fiber?

Some of the high fibre breakfasts include oatmeal with berries, eggs with whole grain toast, whole grain chapati, millet upma/pongal, whole grain dosa/idli etc.
[sc name="subscribe"]