Oats are whole grains rich in vitamins, minerals, proteins and fibers [1]. Since oats are a whole grain, it takes time to digest and keeps you full for a longer time, suppressing your appetite.
Also, because oats for weight loss oats contains fiber, it keeps the digestive system clean and does not let the fat get absorbed in the body leading to maintenance of weight.
Table of Contents:
Benefits of Oatmeal
The biggest benefit weight loss oats have on the body is that it reduces the bad cholesterol in our body.
The fiber prevents the cholesterol from getting absorbed into your bloodstream and adding fruits and veggies soluble fiber in oatmeal helps reduce the absorption of cholesterol into your bloodstream, and adding fruits and veggies to the weight loss oats can actually multiply the effects.
Consumption of weight loss oats along with having a positive effect on your weight loss, helps you maintain your heart in a good condition. Weight loss oats help in boosting our metabolism, especially the old-fashioned and the steel cut weight loss oats [2].
Oats for Weight Loss
Having oats for weight loss is actually an effective weight loss method to follow. As already discussed, the body absorbs oats at a slower pace, which keeps the blood sugar in check while keeping your energy levels up for a longer time.
Get FREE Health Consultation Today!
And because you are full for a longer time, you have lesser cravings for unnecessary bingeing. And as we all know, bingeing is the biggest culprit in weight gain!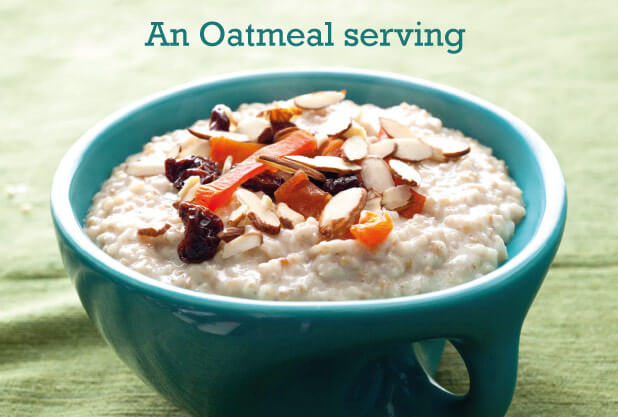 Types of Weight Loss Oats
Plain Oatmeal:

Plain oatmeal has much lesser calories as it has lower sugar content than the flavoured one.

 Flavored Oatmeal:

This one contains added flavour which is high in sugar and thus high in calories. So it is always to avoid the flavoured oats and go for plain oats for weight loss.

Bigger Flake Oatmeal:

You often tend to go for bigger flake oatmeals as they keep you full for a longer period of time curbing the craving for bingeing.

Steel-Cut Flake Oatmeal:

These oats take a longer time to cook and have a creamy texture. These weight loss oats have both creamy and chewy texture at the same time giving it its uniqueness quotient.
Here are Four Oats Recipes for Weight Loss
1. Weight Loss Oats With Vegetables
Ingredients To Go
Half cup oatmeal

4 cauliflower florets

4 broccoli florets

Half a medium-sized carrot

3 tablespoon olive oil

Salt, pepper and Water
Preparation Method
Boil the oatmeal until soft.

Dice the vegetables and saute in a frying pan.

Add the boiled oatmeal, water, salt, and pepper and mix well.

Your weight loss oats with vegetables is ready to eat.
2. Weight Loss Oats with Lentils and Chicken
Ingredients To Go
Half cup oatmeal

¼ cup lentils

2 chicken breast cut into cubes

Half chopped onion

1 chopped green chili

2 chopped cloves of garlic

1 chopped tomato

2 tablespoons olive oil

Chopped coriander leaves

Salt and pepper
Preparation Method
Boil the weight loss oats and lentils separately.

Ensure that you do not throw away the excess water.

Saute the garlic, onion, tomato, and green chilli.

Add the chicken. Add the oats and lentils and let it cook until the chicken is soft.

Add a pinch of salt and pepper and garnish with chopped coriander leaves.
3. Weight Loss Oats Pita Bread with Egg and Vegetables
Ingredients To Go
1 Oats pita bread,

1 whole egg, half chopped green bell pepper,

¼ chopped onion,

1 lettuce leaf,

1 tablespoon mustard paste,

1 tablespoon olive oil, salt and pepper
Preparation Method
Saute the chopped onion and green bell pepper.

Add the egg to the sauteed veggies.

Lay the lettuce leaf on top of the oats pita bread.

Transfer the fried vegetables and egg on top of the lettuce leaf.

Add a bit of mustard paste and sprinkle salt and pepper for taste.

Your weight loss oats pita bread with egg and vegetables is ready.
4. Weight Loss Oats Rava Dosa
Ingredients To Go
1 cup ground oatmeal,

¼ cup rice flour,

¼ cup Rava (semolina),

Half chopped onion,

Half chopped green chilli,

1 teaspoon cumin seeds, salt, water
Preparation Method
Mix the ground oatmeal, rice flour, rava, chopped onion, green chilli and cumin seeds with water.

Check the batter for the right consistency. It should be a pancake batter.

Heat the pan and spread the batter to make thin and crisp pancakes.

You can serve it with fresh coconut chutney or even mint chutney.
We at Possible bring to you a few more innovative and interesting weight loss oats recipes especially for you [3], [4], [5], [6], [7].
FAQs

Q. Can I eat oats for weight loss?

A. Yes, you can eat oats for weight loss. In fact, oats are good for weight loss if high fat or sugar ingredients are not added to it.

Q. How much weight can you lose by just eating oatmeal?

A. You may lose up to 4 pounds a week if you follow the oatmeal diet [8] or up to 20 pounds in 2 months if you regularly include oatmeal in your diet.

Q. Which are the best oats for weight loss?

A. Plain and steel cut oats are the best for weight loss.

Q. Should I eat oats for dinner?

A. Yes, you can eat oatmeal for dinner. You may add vegetable, lentils or chicken in the oatmeal to have a satisfying dinner.

Q. Does eating Quaker oats help in weight loss?

A. You should ideally avoid Quaker oats if you are targeting weight loss.

Q. Can I eat sugary fruits like mangoes with oatmeal and still lose weight?

A. Yes, you may add seasonal fruits to your oatmeal but do not overdo it. Fruits high in sugar should be consumed in moderation.
Have any other nutrition and weight loss related query in mind? Contact a Possible Nutritionist today. The first consultation is on us! Click here for the first consultation!
Get FREE Health Consultation Today!