Minty Vegetable Oats Soup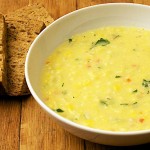 So have you tried to incorporate oats into your soup?
Well, oats soluble fibre can achieve the same effect as cornflour. This vegetable soup with the hint of mint and slight spice is sure to fire up your appetite yet weight loss like a good soup should!
1 Cup Sweet Corn Kernels
1 tbsp Rolled oats
1 Cup Mint leaves
1 Cup Finely cut vegetables (Carrot, Beans)
1/2 tsp Ginger paste
1/2 tsp Garlic paste
a pinch Black Pepper Powder
1/4 tsp topping oil
Salt to taste
Boil all the vegetables with Mint leaves, oats in 2 -3 cups of water.

Blend the mixture ( optional)

Add pepper powder and salt as desired.

When serving put a ¼ teaspoon of extra virgin olive oil on top and garnish it with coriander leaves.
Get FREE Health Consultation Today!