Height and weight are two correlated parameters that have effects on your health. 
The height-weight charts are the standards helping you in determining that in accordance with your height, whether you are weighing your ideal weight or not.
Due to the gender difference in fat and muscle composition, the height weight chart for men and women are different, helping you to understand how close or far you are from your ideal weight.
Diseases Related to Overweight |  Tips to maintain ideal weight
Height weight charts:
Height weight chart is the tool, commonly referred by the healthcare providers to:
Evaluate the association between an individual's height and weight
Measure current weight and if, any need for weight loss
Weight management
With efficient monitoring of weight, this chart is also helpful in keeping chronic, non-communicable disease under check as the overweight or obesity is a predisposing factor for many lifestyle disorders like diabetes, CVD and hypertension.
However, how do you know that you have to bring your weight under control?
Height weight chart for men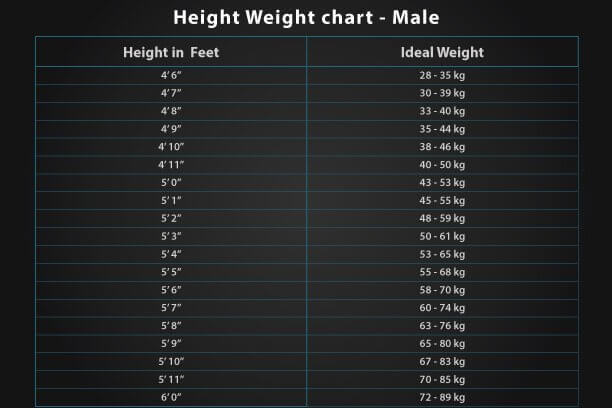 Well, one of the popular methods of determining if you fall in the right weight category is to check it against your height.
Height weight chart for women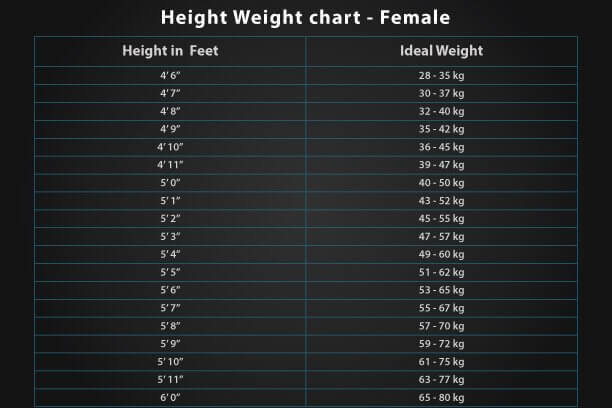 There are different methods that determine the ideal weight for height.
One such is the Body Mass Index (BMI), it quantifies the height and weight and gives a measurement of weight group. For Indians, a BMI of 23-24.9 is considered normal.
6 Common Diseases Related to Overweight
While overweight rises many health concerns, here is the list of the common diseases that you might be inviting because of your unhealthy weight.
1. Coronary heart diseases

 
Weight and the heart have always been found to be related to one another.
According to a review published in the European Heart Journal, obesity results in consequences like insulin resistance, leptin resistance, inflammation, atherosclerosis, and fluctuations in blood pressure.
These all act as a predisposing factor for causing harm to the heart and blood vessels and therefore, poses threat against cardiovascular disease [1].
2. Different types of Cancers
Excess weight is suspected to develop certain conditions that may trigger various cancer types. An overweight body may cause
Body inflammation

Hampers the immune system

Affects cellular growth
And studies have also shown that reducing the body weight can be helpful in reducing the risks of cancer.
3. Type 2 Diabetes Mellitus
Abdominal weight is considered to be a factor for developing risks of type 2 diabetes.
This fat promotes the production of pro-inflammatory chemicals, that result in insulin resistance in the body, which is a major factor for developing type 2 diabetes [2].
Another mechanism for reduced insulin sensitivity is the excess fat accumulation over the fat cell surface.
This covers the insulin receptors inhibiting the glucose uptake by cells and therefore, high blood sugar level.
4. Hypertension

 
The positive increase in the difference between current weight and ideal weight from height weight chart results in overweight that creates fatty tissues.
These fatty tissues accumulate in blood vessels forming plaques which increase body's vascular resistance.
This, in turn, causes intense pressure to move the blood throughout the body.
Overweight makes the blood arteries become thick and stiff that results in hypertension.
Also, the mechanisms involving altered kidney function with sodium retention and leptin activities also causes the condition of hypertension [3].
5. Liver disease
People who don't fall under the ideal weight according to the given height-weight charts are found to show the fatty liver disease.
This disease is caused by fat buildups in the liver making it function abnormally and even causing liver injuries.
The liver disease closely related to obesity is basically termed as the nonalcoholic fatty liver disease (NAFLD).
There come different types of liver diseases under this term. NAFLD is found to be related to insulin resistance which is closely related to obesity. [4]
Height Weight Chart for Children
Doctors recommend monitoring the height and weight of growing children in a regular interval.
This is, at most of the places, done through the height weight chart or the growth charts.
The right ratio will allow you to keep a track of the proper growth and development of your kid.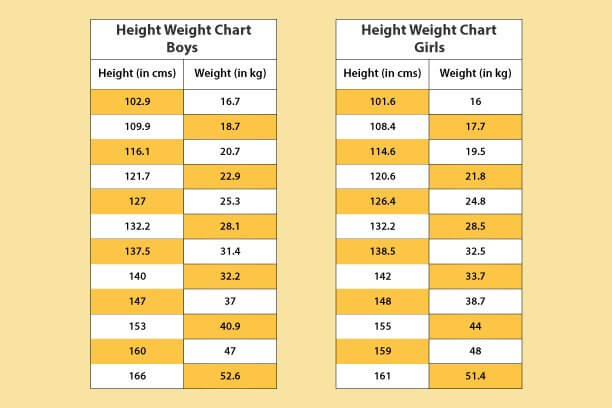 Also, it provides better guidance to take effective measures if there is fluctuation from the ideal condition.
Tips to maintain ideal weight
1. Follow a proper diet
It is very important to give your body the required nutrition. Protein is an essential nutrient that not only aids in weight loss but also helps in maintaining healthy body composition along with satiety value [4].
Moreover, it is important to have a balanced diet that comprises of all the food groups. 
In the case of children, even simple carbs to an extent are healthy as their activity level and growth rate are high as compared to adults. 
Below is the simple balanced diet plan for kids and adults that can be helpful for healthy maintenance of the body.
Here's a balanced diet chart for kids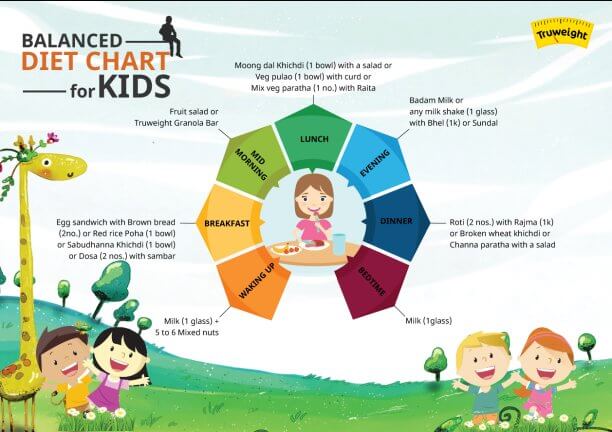 When it comes to adults,  it is equally important to include all the food groups though kind and portion vary. For example, more complex carbs as compared to simple carbs should be there on your food plate.
2.  Keep up an active lifestyle
It is important to maintain a healthy equilibrium between calorie consumption and calorie burnt. Therefore, it is necessary to be physically active and indulge in any physical activity, be it indoor or outdoor.
With the growing age, adults should include one or the form of exercise in their daily routine like brisk walking, jogging, yoga or attending gym sessions.
Similarly, make sure your kids are playing outside more than sticking to cell phones. Teach them the importance of being physically active.
Riding, running, playing outdoor games, yoga are very convenient ways to keep your children active. This will not only affect their vertical growth but also keep a check on their weight.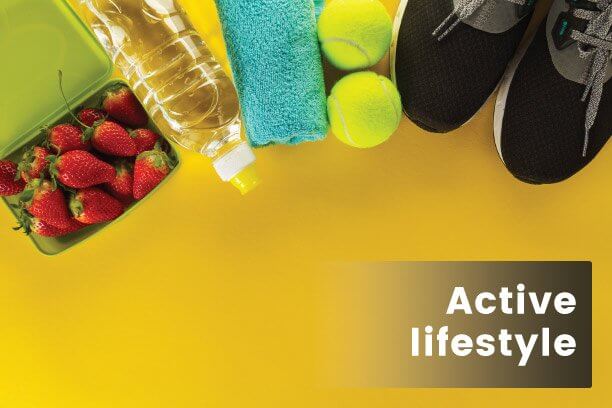 3. Avoid growth inhibitors
As present in caffeine, alcohol, and tobacco, these should be avoided by adults or taken in moderation as consist of inhibitory factors like tannins which inhibit the absorption of many nutrients in the body.
Similarly, approaching teenage may expose kids to new habits like smoking, alcohol, and drinking tea or coffee.
It is very important to prevent them from indulging in these new activities. These actions will hamper their height and weight and overall growth, a great deal.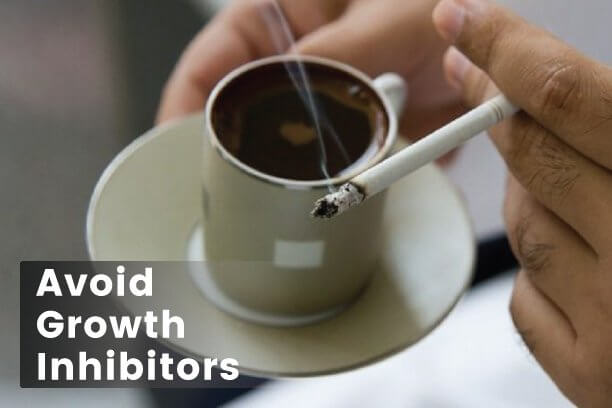 4. Vitamins and calcium are important
Micronutrients like vitamins and minerals are of utmost importance as they regulate basic body functions. With the increasing age, the body has the tendency of slow metabolism and oxidative damage.
Therefore, regular supply of essential vitamins and minerals through natural and artificial supplements is important.
In the case of children, growth and height depend on the food they eat. They must be given foods rich in vitamins, calcium as well as iron. That will directly affect the growth of a kid.
It is important to note that our foods are the sources for most of the nutrients that our body requires, hence the right diet is the perfect solution of vitamins, calcium deficiencies in our bodies. Calcium is an integral part of bones.
Also, vitamin D plays a crucial role in calcium metabolism. Hence, it is important for children to have a diet that gives them a sufficient amount of both vitamin D and calcium.
Low absorption of calcium and vitamin D are found to be inhibiting structural growth in children as well as adolescents. [5]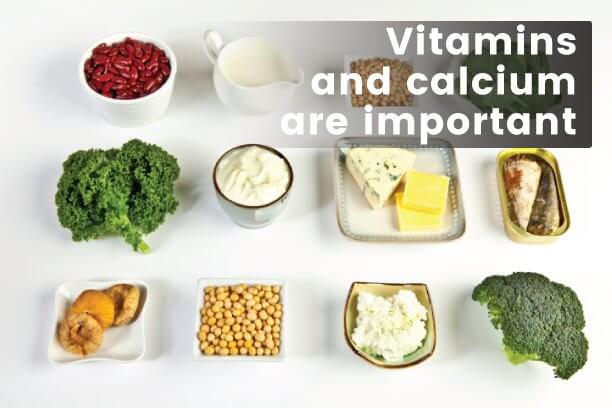 5. Proper sleep
Sleep! One of the most important and unfortunately, most neglected factors that impact your metabolism and health.
For proper growth of children, they require the proper synthesis of the growth hormone which by the way get produced in the body.
And it is very interesting to know that our body produces growth hormones while we are asleep. In fact, studies show that our growth may increase with the amount of sleep we take. [6]
Make sure your little ones are getting enough of it. 8 to 10 hours of sleep per night is considered as a standard sleep requirement.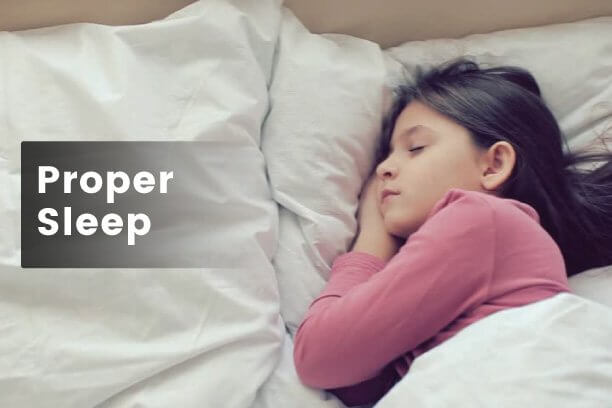 6. Avoid skipping meals
In order to have a healthy lifestyle,  it is essential to have proper meals at regular intervals. This keeps your blood parameters like glucose, cholesterol levels stable with less fluctuation in metabolism.
Specifically, skipping meals at the growing stage will adversely affect the growth cycle, particularly when the time is so competitive.
Therefore, come up with diet plans that will ensure they get their meals on time.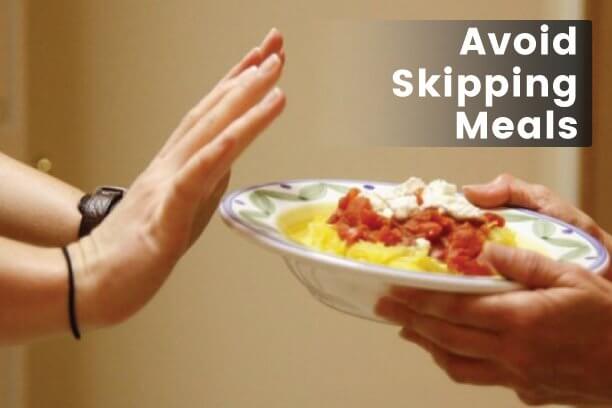 The height weight chart will give you an idea to know if you are on the right track with your weight. However, an expert's opinion is always advised.
If you wish to know how height and weight should vary for proper health maintenance or if you want to know the ways to achieve your ideal weight, book an appointment with a health expert today. Click here for a free consultation!  
Get FREE Health Consultation Today!