Healthy And Nutritious Veggie Oats Upma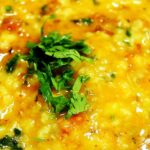 Oats don't have to be just healthy, they can be tasty too! This oats upma recipe filled with the goodness of vegetables. Oats upma is a healthy dish prepared from oats, vegetables, and spices. The Oats Upma is quite filling, and ideal for breakfast as it will easily keep you satiated till lunch time. Oats contain fiber which is required as part of everyday diet. Oats contain a soluble fiber called beta-glucan, which lowers cholesterol in 3 ways binds with fat substances in the gut and prevents their absorption into the body; preventing cholesterol like substances in bile from being reabsorbed.
100 gm Oats
1 tsp Ghee
1 tsp Mustard
1 tsp Cumin Seeds
1 tsp Urad Dal
50 gm Onion
few Curry Leaves
1 tsp Ginger
Salt – to taste
10 gm Green Bell Pepper
Red Bell Pepper
10 gm Yellow Bell Pepper
1 tsp Turmeric Powder
1 tsp Chilli Powder
Method
Take ghee in a pan and add mustard, cumin seeds, urad dal and curry leaves.

Add onion, green chilli and ginger. Saute them well.

Add green bell pepper, red bell pepper and yellow bell pepper. Mix them.

Now add oats, turmeric powder, chilli powder and some salt. Saute them.

Add required amount of water and cook for 10 mins.

Your veggie oats upma is now ready to serve!