Crunchy And Healthy Thai Papaya Salad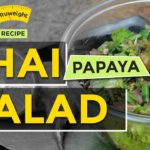 Are you bored with usual salads? Try this amazing Thai papaya salad, which in Thailand is known as as som tam, is one of the most commonly available and popularly consumed dishes in Thailand. Possible has come up with a variation inspired from this recipe. The recipe is made from shredded papaya mixed with other ingredients like nuts, coriander leaves, tomato, lettuce and other spices. Raw papaya is a rich source of magnesium, potassium, vitamins A, C, E and B. It contains more active enzymes than the ripe papaya and contains fiber. Try out this healthy Thai papaya salad recipe today!
50 gm Grated Papaya
30 gm Tomato
1 tsp Green Chillies (crushed)
3 tbsp Spring Onion
3 tbsp Lettuce
1 tsp Ground Nuts (roasted)
1 tsp Garlic
1 tsp Honey
2 tsp Lime Juice
2 tbsp Soy Sauce
a few Coriander Leaves
Salt – to taste
Method
Take grated papaya in a bowl. Add tomato, crushed green chillies, spring onion, lettuce, roasted ground nuts and garlic.

Add honey, lime juice and soy sauce to it.

Sprinkle some coriander leaves and mix them well.

Serve your bowl of Crunchy and Healthy Thai Papaya Salad!