Wholesome Jowar Khichdi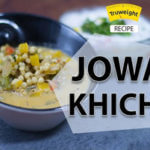 When in doubt, have khichdi! Yes, for all the people who think rice and rotis aren't their style, they can enjoy the subtle yet amazing khichdi. While we all do have our own kinds of khichdis, Possible brought an all new version of healthy khichdi. This jowar khichdi is definitely a great way to satiate your hunger. Jowar is a gluten-free, high-protein, cholesterol-free grain that is also rich in many essential nutrients such as dietary fibre, iron, phosphorus, and thiamine. We have sprinkled a generous dose of antioxidants in the form of colourful bell peppers! So indulge in this warm comfort on a cold day or when you don't feel quite up to the spicy foods yet!
50 gm Whole Jowar
25 gm Yellow Bell Pepper
25 gm Red Bell Pepper
25 gm Green Bell Pepper
25 gm Zuccini
100 ml Milk
A few Coriander Leaves
1/4 tsp Asafoetida
1 tsp Lemon juice
2 tsp Green Chillies
1 tsp Oil
1 tsp Cumin Seeds
Salt – to taste
Method
Soak jowar overnight in water. Next day, drain all the water.

Add 1 cup of water and salt to the jowar in a pressure cooker, mix well and pressure cook for 5 whistles.

Allow the steam to escape before opening the lid. Keep the cooked whole jowar aside without draining the water.

Heat oil in a non-stick pan and add cumin seeds to it.

When the seeds crackle, add the asafoetida, green chillies, red, green, yellow capsicum and the zucchini and sauté on a medium flame for 1 to 2 minutes.

Add a little salt, cooked jowar (along with the water), mix well and cook on a medium flame for 3 to 4 minutes or till the water dries up, while stirring occasionally.

Add milk to it and mix well and cook on a medium flame for 2 to 3 minutes, while stirring occasionally.

Add coriander, mix well and cook on a medium flame for 2 minutes, while stirring occasionally.

Serve immediately.
Get FREE Health Consultation Today!