Chole Chaat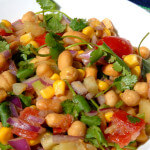 This high protein and fibre beans are named after a popular North Indian recipe named Chole. Coming to the nutritional benefits, we can rattle off a list of nutrients contained in chickpeas. Right from vitamin K, calcium, magnesium, manganese, zinc, vitamin C, vitamin B6 and the list can continue. A notable mention to the fibre in chickpeas. So it is a great idea to prepare and dig into this healthy recipe.
1 bowl Chickpea
2 Onions
1 Tomato
Few pods of garlic,
1 tsp finely chopped ginger,
Coriander and green chilies for garnish
Can add mushroom,
Capsicum (optional),
Extra virgin olive oil
Soak chickpeas overnight in water and boil them.

Add all cut vegetables and 1 tsp olive oil.

Add salt, red chilly powder and chaat masala to taste.

You can also add tamarind chutney.

Another variation can be to saute all vegetables in olive oil and imli chutney and then mix

it with boiled chickpeas. Add chaat masala on top.
Get FREE Health Consultation Today!