Vegetable Biryani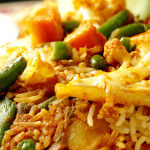 When vegetables marry the healthy brown rice, this is what you get. Just to reiterate again, vegetables provide fibre, vitamins, minerals that are deficient in processed foods. Keeping in tandem with unprocessed (and unrefined), we have included brown rice which retains the fibre and the B-vitamins which is otherwise processed away. The traditional biryani is made with tons of ghee and deep frying. Refrain from doing so and enjoy the healthy variant of this delicacy.
1 cups ong brown rice (basmati) soaked and drained
1 bay eaf (tejpatta)
25 mm (1") piece cinnamon (dalchini)
1 clove (laung / lavang)
1 nos cardamom (elaichi)
salt to taste
For The Vegetable Gravy
1/2 cups chopped and boiled mixed vegetables (carrots, peas, cauliflower, french beans and potatoes)
2 tsp oil
1/2 tsp cumin seeds (jeera)
3/4 cup finely chopped onions
2 tsp ginger-green chilli paste
1/4 tsp turmeric powder (haldi)
2 tsp coriander (dhania) powder
1 tsp chilli powder
1/2 tsp garam masala
1 cup roughly chopped tomatoes
salt to taste
Other Ingredient
1/4 cup fresh curds (dahi)
1/4 cup finely chopped coriander (dhania)
a few drops edible saffron colour
2 tbsp ghee
Method:
For the rice:
Combine 4½ cups of water, bay leaf, cinnamon, clove, cardamom, rice and salt in a deep non-stick pan. Cover with a lid and cook on a medium flame for 10 to 12 minutes or till the rice is cooked.

Strain the rice using a strainer and keep aside.
For the vegetable gravy:
Heat the oil in a deep non-stick pan and add the cumin seeds.

When the seeds crackle, add the onions and sauté on a medium flame for 1 to 2 minutes or till the onions turn translucent.

Add the ginger-green chilli paste, turmeric powder, coriander powder, chilli powder and garam masala and sauté on a medium flame for a few seconds.

Add the tomatoes and 2 tbsp of water, mix well and cook on a medium flame for 4 to 5 minutes.

Add the mixed vegetables, salt and cook on a medium flame for another 2 to 3 minutes, while stirring occasionally.

Add the sugar, mix well and cook on a medium flame for 1 more minute.
How to proceed
Combine the curds, coriander and saffron colour in a bowl and mix well.

Add the prepared rice mixture and mix well.