Salubrious Masoor Dal Soup!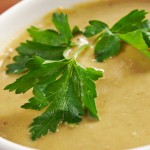 From the list of all Indian pulses, Masoor dal is an incredible source of cholesterol -lowering fibre, protein, including essential amino acids isoleucine and lysine. It is commonly known as lentils. This Massor dal soup recipe will provides adequate nutrition and nourishment for your body.
1/3 cup split red lentils (masoor dal)
1 medium onion chopped
3-4 nos garlic cloves chopped
1/2 tsp garlic cloves chopped
2 large tomatoes roughly chopped
2 tsp lemon juice
Coriander for garnishing
Salt to taste
METHOD-
Heat a non-stick kadai. Pour ¼ tsp oil and sauté finely chooped garlic and onion for 1 minute.

Add washed lentils, chilli powder, 3 cups water & tomatoes. Mix well and cook for 1 minute.

Transfer into a pressure cooker and cook till 3 whistles. Cool & puree the blend.

Add lemon, salt and garnish with coriander.

Serve hot.

Stay healthy, stay happy!
Also, Try this Healthy recipe: Channa with Egg and seeds cocktail