Methi Wheat Roti Recipe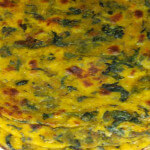 Fenugreek leaves or simply known as methi leaves are commonly found in Indian households.
A treasure trove of nutrients, fenugreek leaves are a rich source of steroidal saponins which help reduce levels of bad cholesterol or LDL.
Fenugreek leaves are rich in fibre and antioxidants. All this nutrition benefits along with a pleasant bitter taste. Try these healthy methi wheat rotis today.
1 Cup Whole wheat flour
1 Cup Fenugreek leaves
1 Cloves of garlic
1 Green chilli
1/4 tsp Cumin seeds
1 pinch Turmeric powder
1 tsp Oil
Salt to taste
Crush the garlic and green chilli into a little coarse paste and set aside.

Wash and chop the fenugreek leaves and keep it aside.

Heat 1 teaspoon of oil in a pan. Add the cumin seeds and fry for a few seconds.

Add the chilli-garlic paste and fry for a few seconds.

Add the chopped fenugreek leaves and turmeric powder and fry for a couple of minutes or until it shrinks.

Turn off the flame and let it cool.

Take the flour, salt, and fenugreek mixture in a bowl and combine.

Make a smooth and pliable dough by adding water little by little. Knead it well.

Cover the dough and keep it aside for 30 minutes.

Divide the dough into 5 equal portions. Roll each ball into a circle.

Heat a pan and place the roti on it.

Cook each side with a little oil until brown spots appear on both sides.

Once the roti is cooked and browned, remove from the pan and keep it in a bowl or roti basket.

Keep covered to maintain softness.

Serve hot with fresh vegetable chutney and raita.
Get FREE Health Consultation Today!