Wholesome Palak Moong Dal Recipe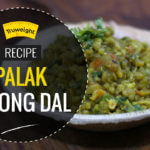 Do you still remember the secret of Popeye's strength? Yes, spinach!! We can go on and on about the health benefits of palak or spinach.
Low in fat, spinach is instead high in nutrients like niacin, zinc, protein, fibre, vitamins A, C, E and K, thiamin, vitamin B6, folate, calcium, iron, magnesium, phosphorus, potassium, copper, and manganese.
Imagine this powerhouse ingredient in combination with a potent protein source, namely dal! It makes for a very nutritious offering! Gone are the days of the regular dal, make this wholesome, healthy, and very easy palak moong dal recipe today.
50 gm Whole Moong Boiled
20 gm Palak Leaves
30 gm Onion
20 gm Tomato
1/2 tsp Ghee
1/2 tsp Cumin Seeds
1/2 tsp Turmeric Powder
1/2 tsp Chilli Powder
1/4 tsp Hing
1 pc Bay leaf
1/2 tsp Garlic paste
1 tsp Lime Juice
Salt – to taste
Water – as required
Take ghee in a pan. Add cumin seeds, turmeric powder, chilli powder, hing and bay leaf. Mix them well.

Add garlic paste, onion, tomato and mix them further.

Add salt, required an amount of water and boiled whole moong.

Cook for 5 mins.

Add palak leaves and lime juice to it.

Your wholesome palak moong dal recipe is now ready to be served!
| | |
| --- | --- |
| Component | g per 100 |
| Energy (Kcal) | 435.5 |
| Protein (g) | 20.2 |
| Fat (g) | 11.9 |
| Carbohydrate (g) | 61.9 |
| Dietary Fibre (g) | 25.6 |
| Sugar (g) | 0 |
| Cholesterol (mg) | 0 |
| Sodium (mg) | 202 |