It is important to have a fit and toned body to stand out of the crowd. Most of us are really excited to shed those extra kilos but don't really know how to do it.
While a few of us Google and struggle to find the right workout moves, there are others who give up on the idea and move on.
Being fat or overweight is not good for the body. This is because obesity can cause a lot of health issues and body disorders. The major reason to keep up fit and healthy is to avoid problems and issues later on.
Table of Contents
In this particular article, we provide you with the best body exercises that would help you tone up your body and get you prepared for the festive season. We all know Navratri is just around the corner and who doesn't like Dandiya and Garba. 
Dressing up and dancing to our hearts is the best thing to do. But this would not be possible if you don't shed that extra weight. It is important to get fit and having a toned body is all our goals. We have designed the best fat reduction in body exercise routine for you in this article.
The reason behind exercising is that exercising controls the weight from gaining and helps you reduce the extra fat developed.
Get FREE Health Consultation Today!
You can do this by following these steps. And the best thing about this workout is, you require no additional gym equipment. All you really need is a simple yoga mat.
Best workout moves to reduce fat
1. Plank:
Looks easy, but once into it, a plank can take all your strength and we bet beginners cannot stand this for more than 5 seconds.
This is the best workout move to reduce the belly fat and gain core strength. By increasing the number of seconds gradually and getting used to it, planks are the best workout move to lose weight.
Remember, when doing planks, try to suck in your belly button to the spine and keep breathing and keep your core engaged.
2. Squats:
Next up is a squat; this focuses on the lower body and helps you reduce the chub on your thighs, butt, hips, and legs. 
Most of us complain about our thighs being fat and here is the solution. 
Squats are of two types;
One is a full squat where you bend down totally to the ground and come back to the position and the other one being a half squat where you bend down till your thighs are parallel to the ground, imagine sitting on a chair.
Remember, you can keep your hands as per your comfort.
3. Lunges: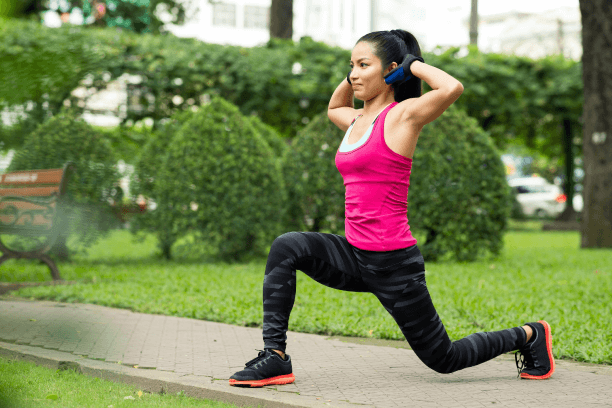 The best way to get back in shape is by doing lunges. These again have different types in it. You can choose according to your ease between walking lunges, normal lunges or side lunges. This involves the entire body in the exercise. Lunges help in building core and tone up your legs.
Remember, by the time you finish this exercise your legs would start trembling and asking for some rest which is a good sight for the fat to be reduced.
The traditional lunge is one leg at a time in a stationary position but you can also try walking lunges. And to make it extra challenging try doing side lunges.
4. Push-ups:
For beginners, try keeping your knees on the ground or you can get support too. During the push-up, the body focuses on the core and helps the entire body to tone up.
You can feel it in a single push-up that your body is working all its limbs and muscles to get back to the position where you started.
And For beginners, you can start with a wall push-up and then move on to the inclined position for the push-up and finally do the proper push-up. Remember, over time, you will build up the strength to sustain for the push-up. Do not give up!
5. The Jumping Jacks:
Try the jumping jacks; this is the most fun-filled exercise on the list.
Jumping like a small baby, this will help you feel good about the workout schedule, make your heart healthier, helps greatly in weight loss, relieves your stress counts as a full body workout, mostly make you flexible, tones up your muscles, builds stamina and makes you stronger.
Jumping jacks is simply jumping with legs wide apart and clapping hands above head. Remember, start with 10 and increase the count gradually.
6. Mountain climbers: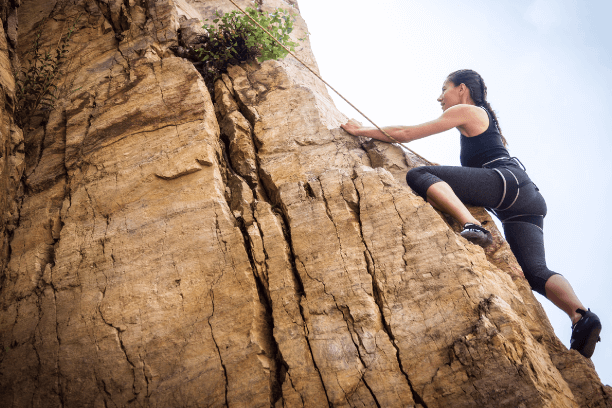 As the name suggests, all you really need to do is climb a mountain while you are on the ground.
This exercise again focuses on your entire body and helps in reducing the extra fat. builds the core, tones up arms and muscles and gives your body the good shape.
You do not really need anything to perform this exercise. It is strength training, core building, and a full body workout. It is a running position, but while you are facing the ground.
7. Pelvic lifts:
The name suggests, this concentrates on the pelvic muscles. You can start this by lying flat on the floor, with knees bent and feet and hands flat on the ground and lifting your stomach area.
This helps with your abdominal area. Another benefit that this exercise carries is that it helps you flatten your stomach. Most of us really want a flat stomach.
The following exercises can be combined with different modification like a squat can be combined with a jump making it jumping squats.
There are different types of planks like side planks that help in toning the side body and reducing love handles. You also need to be careful while performing these exercises as they can have a serious bodily injury if performed in the wrong way.
It is even better to take help from a gym instructor on the exercises suitable for your body type. Also, starting and expecting results in a day or two is not right, you have to give your blood and soul for these exercises to do wonders on the body.