Ragi Roti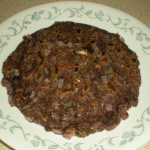 Ragi or pearl millet should definitely be your friend if you are looking at weight loss. A special amino acid present in ragi called tryptophan helps in curbing appetite. From time immemorial, ragi has been known to be a rich vegetarian source of calcium, good for bones. To top this off, ragi also boasts of good fibre and polyphenol content. Enough said, time to try this ragi roti for yourself.
1 cup ragi flour
1/4 tsp cumin
1 very small onion chopped
1 nos green chili chopped
Coriander leaves for garnishing
Salt and water as needed
Method
Add ragi flour, onions, chilies, cumin and salt to a bowl. Add water(preferably warm water) as needed and make a soft dough that is spreadable.
Make 5 equal sized balls. Place a ball of dough on the pan, grease your fingers or moisten them by dipping in a bowl of water. Spread the dough gently to a thin roti.
Place it on the stove and cook covered until you see the color of the roti changes to a darker shade, if you have not greased your fingers, then it turns white in color.Flip the roti and fry on the other side too until done.
You will need 2 pans or tawas or there will be a waiting time until the tawa cools. To make the next roti either make it on another tawa or wait till the tawa cools. If you try to make the roti on the hot tawa, it will not spread.
Serve hot with vegetable or chicken subjis.
Get FREE Health Consultation Today!