Serve Yourself With Delicious Mashed Sweet Potato!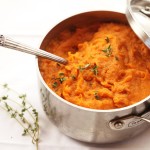 Apart from having a delicious taste, sweet potatoes are an excellent source of many nutrients like vitamin A, vitamin C, manganese, copper, pantothenic acid, and vitamin B6.
Additionally, they are a good source of potassium, dietary fibre, niacin, vitamin B1, vitamin B2 and phosphorus.
Mashed sweet potato is easy to make and the best way to avail all the nutritive values. Here's sharing the recipe that can accompany your main dishes.
2 nos sweet potatoes
Green chilies
1 finely chopped tomato
1 tsp Olive oil
Pepper and salt to taste
Coriander and ginger roots
1 tsp lemon juice
Method:
Boil sweet potatoes, peel and mash them

Add green chillies and tomatoes

Now add 1 tsp olive oil, vinegar and some ginger and coriander

Mix well, add salt and pepper to taste

Add lemon juice and chaat masala (optional)