Life is not the same for Bangalore based Hardik Gandhi, a 34-year-old sales & marketing professional, who had so far lost 20.2 kgs in 6 months.
 From developing healthier eating habits to fitting into older clothes, Hardik has experienced a sea change with Possible.
 Below, we share the incredible and inspiring weight loss journey of Hardik Gandhi!
The Possible Experience
Hardik, who did not have any health issues as such, joined Possible just to shed those extra kilos. Possible was the first weight loss company he tried and he was all praises for it.
 Speaking about his experience, he told, "I have never tried any other weight loss program because of the fact that they make you starve to reduce weight. What's the point in staying hungry and then when you start eating the weight bounce back? I did try the GM diet for a couple of days but stopped it as I could not resist my cravings and starve any longer.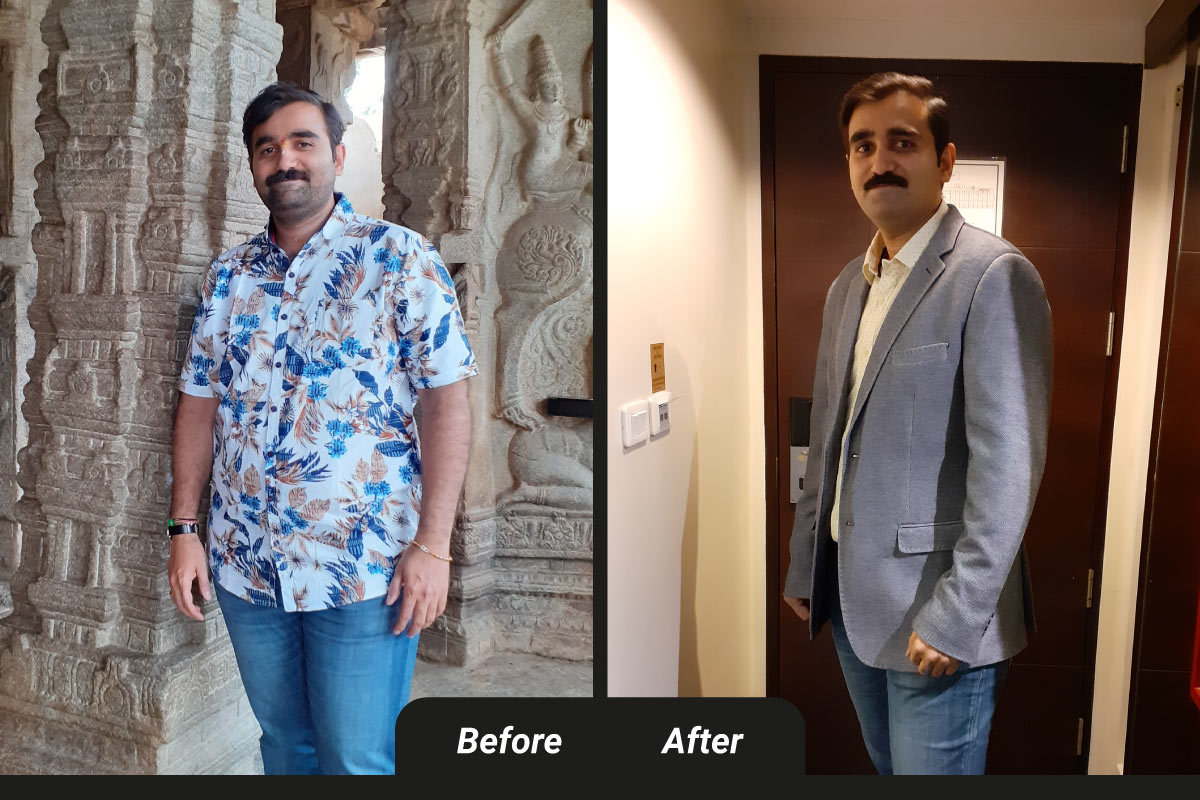 Possible without a doubt is very different from others as you are not asked to follow any sort of crash diet. I am not an expert in this field but I certainly see the entire approach very structured and scientifically done. I had hand-holding at every point. My coach called me weekly and helped me a lot to align my diet according to my needs. This motivation helped me to stay focused.
 I have resisted cheating multiple times just because I'll have to answer my coach later. I still have a few months to go, but I am very happy with the transformation".
What Hardik like about Possible
"I loved a lot of things about Possible. They did not make any false promises. They did not recommend any crash diets and their approach towards weight loss was very scientific. The coach was very motivating and guided me throughout. The fantastic app of theirs tracked my entire food and water intake. This helped with my weight loss journey immensely and their superfoods are super delicious".
Life after Possible
After joining Possible, not only Hardik's health but his self-confidence and fitness also experienced positive changes. "I feel fantastic not only because I get compliments from others, but I feel good about myself from within. With lots of weight, you become lethargic towards everything which has gone now. I feel energetic and don't have to drag myself into anything.
Obviously, with a transformation like this, my self-confidence has also gone up. I now fit into clothes which I never thought was possible", he said.
His take on superfoods
Talking about Possible superfoods, Hardik said, "They are really good and actually a saviour during tough times of craving. There is not one item that I disliked from the list of 23 items that I receive every month. But still, if I have to choose the top 3 items from the snacks I would Chana jor, Protein Ladoo and Granola Bar".
Hardik's 3 tips to weight loss
Your "WHY" has to be strong, big and loud. If you know the "WHY" then the "HOW" gets sorted automatically
Don't think too much. Just follow the diet plan and instructions meticulously.
Have faith in yourself and your coach.