Healthy Stuffed Pepper Soup Recipe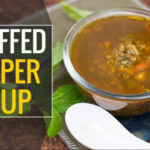 Soups are always an easier and healthier way to satiate hunger. That is why, we are introducing this hearty stuffed pepper soup recipe. It is made with red, yellow, and green bell peppers, diced tomatoes, onions, and spices cooked in vegetable broth to bring the flavour. Bell peppers are an excellent source of vitamin A, vitamin C, and vitamin B6. They are also a very good source of folate, molybdenum, vitamin E, dietary fiber, vitamin B2, pantothenic acid, niacin, and potassium. This comforting soup is so easier to make so, try out this recipe today!
1000 gm Cooked Brown Rice
25 gm Tomato
25 gm Carrot
50 gm Onion
25 gm Spinach
25 gm Green Peas
1 tsp Oil
1 tsp Garlic
25 gm Yellow Bell Pepper
25 gm Red Bell Pepper
25 gm Green Bell Pepper
1 tsp Basil
Salt – to taste
Water – as required
Method
Take oil in a pan and add onion and garlic to it. Saute them.

Add yellow bell pepper, red bell pepper and tomato to it and mix them well.

Sprinkle salt and add basil and pepper powder to it and saute.

Take onion, carrot, tomato, spinach, green peas with a required amount of water in a pressure cooker.

Cook for 10 mins.

Separate the veggie broth as shown and add it to the pan with the bell pepper mixture that you had prepared.

Add the cooked brown rice and salt to it and cook for 10 mins.

You are now ready with your healthy stuffed pepper soup.