Tangy Salsa Sauce to go with your Appetizers!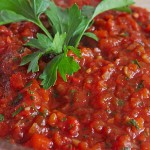 The Mexican delight Salsa sauce is the demand on parties and get together. Not all delicious foods are unhealthy! Salsa sauce is mildly spicy with minced onion, tomatoes and garlic which is nutritious as long as you eat it with a healthy bite. This palate pleasing sauce goes well with your appetizers and chitchats.
Chopped red tomatoes
Finely chopped Serrano chilies (green chilies)
1/2 cup finely chopped onion
1/2 cup chopped fresh coriander (cilantro
Lemon juice and salt
Method:
Char the onion on gas flame. Turn them around on the flame till all of its skin is blistered and black (but not burnt). Remove it from the gas flame and let it cool for 10-15 minutes, then peel it. This process gives a lovely smoky flavor to the onion juice. Charring onion is optional and you can avoid it in case you don't like it

Make sure that the onion, tomatoes, chilies and coriander are all finely chopped. You can use a knife or put everything into a blender

Season with salt and add lemon juice and black pepper to taste
 Tastes best when served chilled! 
Get FREE Health Consultation Today!
Also read:A Healthy Snack- Bhelpuri!