A Healthy Snack- Bhelpuri Recipe | Possible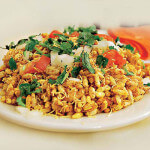 Bhelpuri makes each one of us salivate and ask for more.
It not only teases your taste buds with several distinct flavours with each bite but is mostly made up of some healthy ingredients that proclaim to be good for a diet snack.
Now you have health and taste in a single bowl. Isn't that what you always wished for!
1/2 cups puffed brown/ red rice (kurmura)
1/2 cup chopped onions
1/2 cup chopped tomatoes
1 tsp mustard oil or olive oil
1/2 cup boiled potatoes chopped
2 tsp fresh garlic chutney
8 tbsp khajur imli ki chutney (optional)
4 tbsp green chutney
1 tsp black salt
1 tbsp lemon juice
1 tbsp finely chopped raw mango (optional)
Few chopped coriander and chopped green chilies
Method:
Combine all the ingredients in a large bowl and toss gently till all the ingredients are well mixed

Divide into 4 equal portions and garnish each portion with the raw mango and coriander.

Serve immediately.
Bon Appetite!
Also, try this Healthy Onion and Cucumber Salad Recipe!
Get FREE Health Consultation Today!