Onion and Cucumber Salad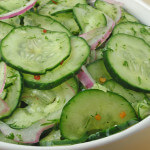 Cucumber juice is widely used as detox liquid. It not only flushes down the toxins from the body but also helps to lose weight. This simple onion and cucumber salad can give a lot of nutrients along with the freshness of cucumber.
1 onion chopped
1 cucumber chopped
1/2 lime juice
1 tsp rock salt
1 green chili chopped
Method:
Chop onion, tomatoes and chili

Take a mixing bowl combine chopped onion, tomatoes, green chili, rock salt and lime juice. Mix all

the ingredients nicely with a spoon
You could serve the salad chilled or at room temperature.