Tex Mex Tortilla Wrap!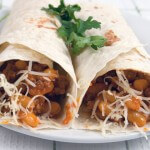 This Tortilla wrap makes for a high-protein and low-fat vegetarian lunch and one can even eat them on the go. Add a little guacamole for a heartier meal.
30 gm black beans (drained)
Juice from one lime
Juice from one orange
3 pods of garlic (minced)
Salt to taste
Cayenne pepper to taste
3 small onions (sliced)
1/2 red or green bell pepper(chopped)
Whole wheat tortillas (refer recipe)
Cheese (optional)
Salsa sauce (refer recipe)
In a food processor, combine the beans, lime juice, orange juice, salt and cayenne pepper and blend until smooth.

Add diced onions and bell peppers to this mixture.

Spread approximately two tablespoons of the bean mixture on a tortilla. Top with cheese if desired, and also add salsa.

Roll up and slice in half.

Wraps can also be microwaved later for 30 seconds to warm them up.
Also see how to make Healthy Gluten Free Wrap
Get FREE Health Consultation Today!