Authentic & Flavorsome Vegetable Stew!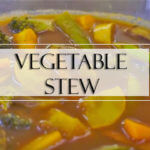 A tempting bowl of steamy vegetable stew full of nutrition is what we call for on a winter's night. The authentic taste with aptly seasoned stew is quenching and soul full for a healthy appetite. An easy-to-make meal. You can also make a personal one with veggies of your choice.
5 nos tomatoes
2 nos capsicums
2 nos carrots
4=5 nos mushrooms
1 cup cauliflower
Coriander leaves to garnish
2-3 nos garlic cloves
You could also use vegetables like green peas, zucchini, broccoli, different coloured bell peppers, cabbage, basil etc.
PREPARATION:
Blanch the tomatoes i.e., put them in boiling water for a few minutes, then peel the skin. Grind them in a grinder.

Chop all the vegetables in slightly big pieces.

In a pan, add ½ tsp of oil and add mustard seed, green chilies, garlic and ginger. Add onions after this and cook till transparent. Add the other vegetables.

Sauté it for some time and add salt to taste.

Add the tomato gravy and let it cook. Cover it with a lid.

Add chaat masala to taste (add red chilli powder if you want it to be a little spicy)

Add lemon and coriander before serving.

Serve hot.
Also read about: Crunchy Salad For Healthy Munching!