Srinivasan Soundararajan, a 49-year-old Bangalore based director had lost 16 kgs in 6 months with the help of Possible's diet plan. The weight loss improved his health greatly and other lifestyle-related conditions.
Below, we share his weight loss journey and how Possible's program helped him with his success.
Srinivasan's health before Possible
Talking about his health and weight woes, Srinivasan said, "I have been overweight for many years. Because of that, I had diabetes, BP and cholesterol. I tried other diet plans including trying something on my own and none of them worked for me. I always felt hungry with these programs and hence I would end up eating more and further gained weight.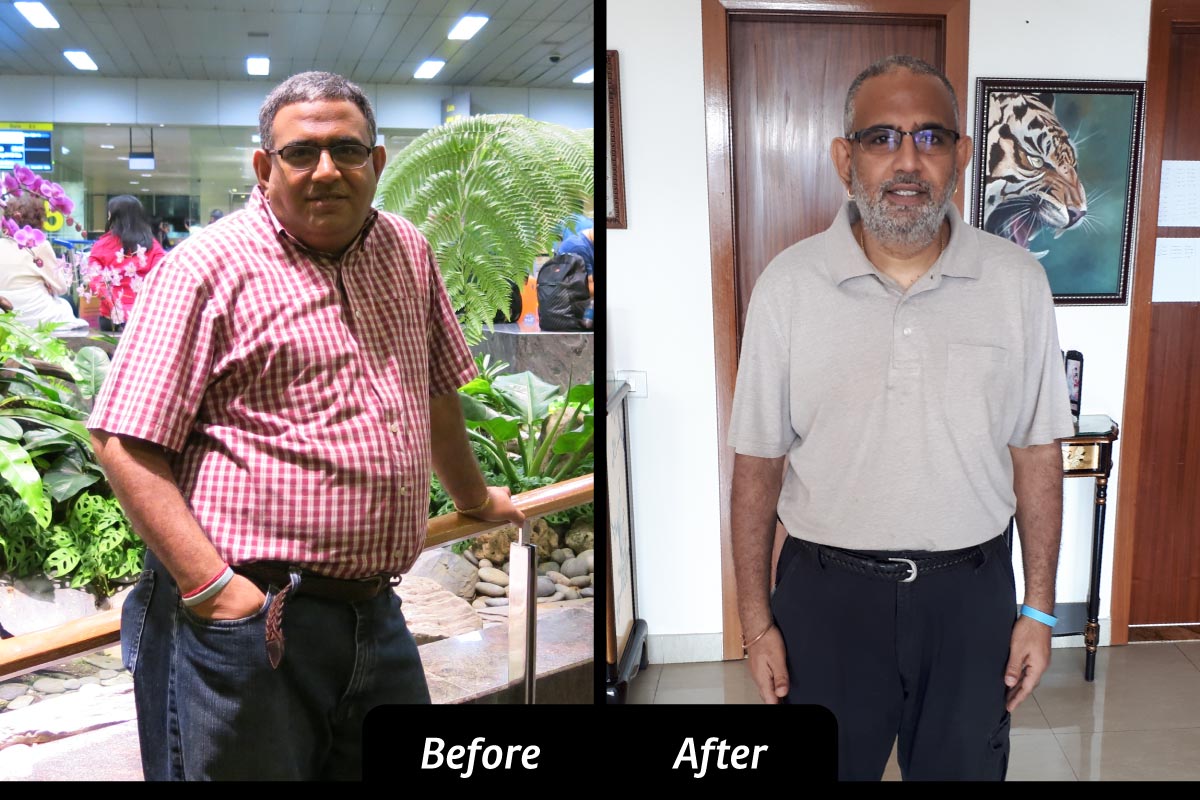 My friend introduced me to Possible and I started the program in September 2019. Their approach was totally different and within a few weeks, I was able to see positive results".
Possible versus fad diets
Srinivasan said, "The beauty of Possible is that it is focused more on nutrition intake and not on calorie intake. Further, Possible program fixed the biggest issue I had before – feeling hungry all the time. The diet plan recommended by Possible allowed me to eat six times a day with lots of choices and I did not feel hungry. This made me follow the program consistently".
What Srinivasan liked about Possible
Srinivasan seems to love too many things about Possible. Sharing his experience, he said, "The entire weight loss program is very structured with multiple phases. Entering daily food intake in the Possible app over time made me conscious of what I am eating. I love their superfoods and the choices they offer. These superfoods have now become a part of my daily food routine.
The close interaction and mentoring by Possible coach is incredible. My coach played a significant role in my health transformation journey. My progress was closely monitored on a weekly basis and the coach offered suggestions and constantly motivated me to keep going. There were times I hit a plateau and my coach offered several suggestions to get over that.
And lastly, the motivational and informational videos shared in the Possible app. Founders Megha and Vishnu's videos were inspiring and had meaningful suggestions. I was able to relate to these videos".
Lost weight, improved health
"I feel incredibly excited about my health transformation journey with Possible. I have lost 16kgs and my health has significantly improved. My HbA1C has come down to 5.6 from 9.7. I have even stopped my cholesterol medication", he added.
All the love for superfoods
Talking fondly about superfoods, Srinivasan added "This is the best part of Possible program. The superfoods are convenient foods and highly nutritious. The choices are plenty – from upma to poha, idli, dosa and snacks. All these are my favourite foods and so, I was able to comfortably follow the program. I have also taken a one-year maintenance plan – to further reduce my weight and maintain healthy eating".
Srinivasan's 3 tips weight loss
Follow a structured diet program given by a dietitian. Don't try things on your own. It might not work out.

Think long term vs. short term. Have a frame of mind that healthy eating should be continued for a long time.

Don't expect quick results. Allow one month to see noticeable differences and allow 6 months to see meaningful progress.