Tofu Chilli Soup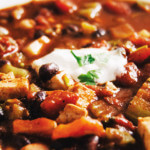 Tofu is a product of soybean curds and is full of varied nutritional benefits. It is naturally gluten free; rich in protein, iron, and calcium. Are you a vegan? Tofu is your source of guilt-free protein then! This is notwithstanding the impressive vitamin and mineral profile of tofu. Do you need any more reasons for trying this recipe out?
30 gms tofu (extra firm tofu, crumbled)
1 onion diced
1 green bell pepper diced
3 cloves of garlic, minced
1/2 cup mushrooms, sliced
1 tsp chili powder
1/4 tsp cayenne pepper/black pepper
1/2 tsp cumin
1 tsp tomato sauce
1 tomato, with liquid
25 gm kidney beans drained(optional)
1/4 tsp sugar
1/2 tsp vegetable oil
Salt and pepper to taste
In a pot, sauté the tofu in the vegetable oil over medium heat for about 3 minutes.

Add the onions, green pepper, garlic, mushrooms, chili powder, salt and pepper and cumin.

Cook for about 5 minutes until veggies turn soft.

Add the tomato sauce, diced tomatoes, beans, and sugar. Bring to boil. Cover and allow it to cook for at least 15 minutes. Serve hot.
Get FREE Health Consultation Today!