Tomato Shorba Recipe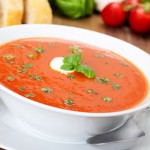 With its roots crawling out of Persia, Tomato Shorba was presented by the Mughals to the Indian spread. Light and spicy, the shorba is filled with herbs, which help in digestion. Tomato Shorba is aromatic and flavorful and its gentle warmth can be refreshing and rejuvenating after a tiring day!
4 Tomatoes
2 green chilies
1 beetroot
1 bunch of spinach
Coriander for garnishing
1 tsp ghee
1 tsp black pepper
1 tsp red chilli powder
1 tsp cumin seeds
Salt to taste
Boil the tomatoes, beetroot and spinach.

Grind it in a mixer and strain.

Add water and boil the mixture till it thickens slightly.

In a pan, add ghee. When the pan is hot enough, add the cumin seeds, green chilies and red chilies.

Add this seasoning to the soup.

Garnish with chopped coriander leaves and black pepper.

Serve hot.
Get FREE Health Consultation Today!