Vegetable Pulao Recipe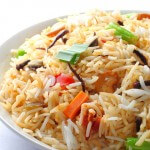 Vegetable Pulao is the ideal definition of a one pot meal comfort. It's perfect for when you are craving for that quick, hot meal. Loaded with vegetables, just serve it with curd and papads.
1 cup brown rice
2 onions
1 tomato
1/2 cup peas (shelled)2 carrots
1 cup beans
1/2 cup cauliflower
1/2 capsicum
1/2 cup mint leaves
1/2 tsp turmeric powder
1/2 tsp chilli powder
Salt to taste
Small piece of ginger (crushed)
3 pods garlic
2 green chilies
1 tsp oil
1 tsp ghee (optional)
For seasoning:
1 tsp fennel seeds
4 cloves
2 cardamoms
1 small piece of cinnamon
Cut the vegetables in diamond shape (except onion, tomato and capsicum) and boil them in water. Let them be crisp and not too soft.

Cook rice in the rice cooker with 1:1 ¾ water ratio and cool it by spreading it on a plate so that it does not stick to each other.

Heat oil in a pan, and add the ingredients for seasoning.

Add onions and fry till crisp and then add tomatoes, green chilies, crushed ginger and garlic.

Add rest of the vegetables, turmeric, chilli, masala, coriander, cumin powder and salt.

Add washed and chopped mint leaves and diced capsicum.

If required, close the lid and cook for a minute.

Add rice to it. Make sure the vegetables and rice are in almost equal quantity.

If required add some salt and ghee while mixing with the rice.

Serve with raita or Kadi.