Moringa oleifera is commonly known as the Drumstick Tree, is blessed with a variety of health benefits. It found its uses in Ayurveda for its natural capabilities of correcting many health concerns.
The best part about Moringa oleifera is that from its leaves to pods, almost everything is edible.
Due to the different moringa benefits, the plant has been found to be quite a hot topic in the health industry.
So we thought our readers shouldn't be devoid of Moringa oleifera or its advantages. From being rich in antioxidants to reducing Diabetes symptoms, Moringa oleifera can be of diverse use.
Table of Contents
Are you looking for natural ways to fight health concerns like weight gain? Here's your chance to talk to an expert Nutritionist now! The first consultation is on us. Click here to avail it today!
Get FREE Health Consultation Today!
9 Scientifically Proven Moringa Benefits
1. Moringa is power packed with Nutrients
The Moringa oleifera, especially the moringa or commonly known as drumstick leaves are powerhouses of nutrients.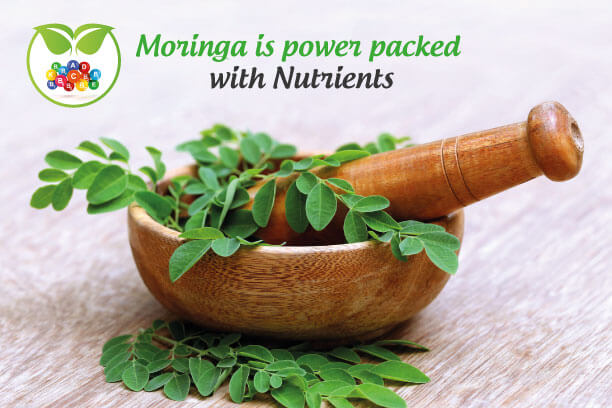 Moringa leaves per 100 gm contains [1]
Vitamin A

6780 mcg

Vitamin C

220 mg

Calcium

440 mg

Potassium

259 mg

Protein

6.7 gm
Here we see, that these leaves contain ample amount of minerals and vitamins A, C, and E; calcium; potassium; and protein which bring numerous health benefits.
These nutrients help in fighting diseases eye disease, skin diseases, heart ailments, cold and flu.
2. Moringa leaves benefits the heart
It has been found that Moringa leaf powder has been beneficial for the heart by reducing cholesterol levels that definitely keeps the heart healthy. [2]
3. Moringa leaves lower Diabetes symptoms
There have been studies on the effect of Moringa oleifera on Diabetic symptoms. The following points can be enlisted here
The Vitamin D in Moringa can be helpful for the islet cells in the pancreas to secrete insulin.

Moringa is high in ascorbic acid that further helps in insulin secretion.

Blurry vision is a common symptom in Diabetic people, the vitamin A can help fight this symptom.

Vitamin E in moringa can help in reducing oxidative stress that improves glucose transport which helps in diabetes. 

[3]
4. Moringa is rich in antioxidants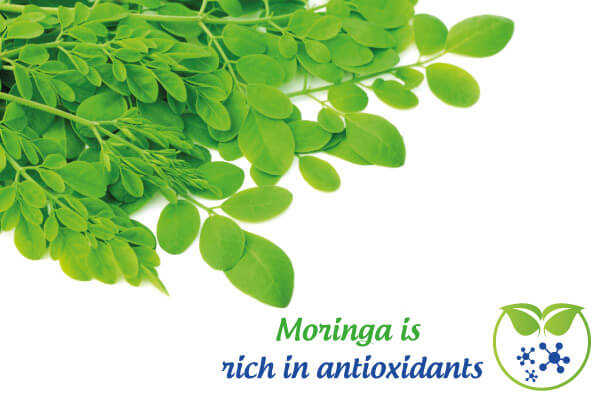 Moringa oleifera is high in natural antioxidants that help in keeping the body cells healthy. Antioxidants play a major role in inhibiting free radicals.
Evidence of antioxidants helping to fight against cancer is available. In fact, including dietary supplements rich in antioxidants reduces risks of developing cancers. Thus, the  Moringa proves to be potential for these antioxidant activities. [4]
5. Moringa helps in keeping the brain healthy
Besides fighting cancerous risks, antioxidants in Moringa oleifera has been associated with developing neuro friendly activities. Moringa contains Vitamins E and C which are quintessential in improving brain health.
The vitamin C helps in the production of neurotransmitters that are basically nerve cells that communicate with each other via the brain. Also, vitamin C reduces brain degeneration that often comes with age.
Vitamin C along with Vitamin E is found to be effective in reducing the risks of developing Alzheimer's and Dementia. [5]
The antioxidants in moringa also help in reducing stress and hence improving mental health.
6. Moringa benefits with antimicrobial property
Crude extracts of Drumstick tree has proven that it contains antimicrobial properties for which it is widely used for medicinal purposes.
Due to its antibacterial and antifungal properties, it helps in fighting skin infections as well as urinary tract infections and digestive problems.
7. Moringa helps in digestion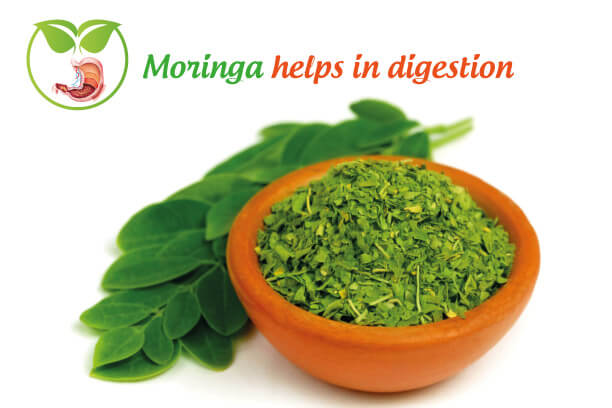 The fiber in Moringa oleifera helps in digestion by cleaning the intestines and prevents stomach and digestion issues like ulcers and diarrhea.
8. Moringa leaves fight acnes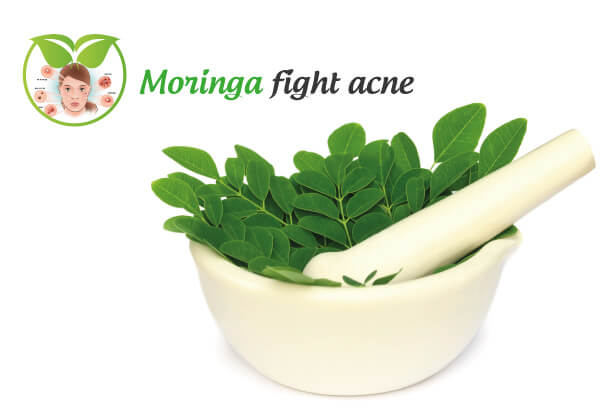 Moringa oil has excellent dermatological significances. It cleanses the skin and moisturizes it. The oil is blessed with nutrients that help in fighting acnes through its antiseptic properties.
You can apply a mask of moringa leaves by grinding them and mixing with water. Put on the paste for about 15 minutes. The face mask will help to rejuvenate the skin, bringing radiation along with anti-acne properties.
9. Moringa oleifera and weight loss
Although there are no proven claims for the role of moringa in weight loss, the following nutrients in them can be helpful in weight loss.
a) Moringa benefits the health by reducing appetite because of its fiber content. Fiber makes stomach filled and hence one will eat less. Again Moringa slows down food absorption that reduces spikes in blood glucose levels that helps in burning body fat.

b) It is low in calories while being high in nutrients. Therefore, if you are looking for nutrient supply without adding more calories, you can add moringa supplements to your diet.
However, one must take care that high doses of moringa leaves or powder may be harmful to the health, therefore, it is always recommended to consult a doctor before signing up for any dietary inclusion.
FAQs

Q. What can Moringa leaf cure?

A. Moringa oleifera is used as a cure for constipation, diarrhea, stomach ulcers, intestinal ulcers etc.

Q. What are moringa leaves used for?

A. Moringa leaves are used for preparing juices to stabilize blood pressure, as a skin antiseptic, to treat fevers, headaches. Even people consume moringa oleifera leaves to increase women's milk production.

Q. Can Moringa be used for weight loss?

A. Like already mentioned, pure research hasn't been yet confirmed for the role of moringa in weight loss but it contains nutrients that can be effective in the same.