Veggie Sprouts Upma Recipe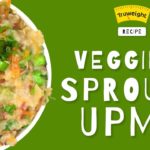 Ever tried adding sprouts in upma? Well, this recipe has added sprouts to the regular upma and it tastes absolutely heavenly. Possible is always into good food innovation and this veggie sprouts upma is one among them. Try this nutritious recipe today!
Upma mix – 2 sachets or 40 g each
50 gm Peas (( or ½ cup))
50 gm Carrot (1 medium)
50 gm Capsicum (1 medium)
2 nos Chilies
50 gm Tomato ( 1 medium)
1 small pc Cabbage (optional
50 gm Sprouts (½ cup)
Method of preparation:
Heat 2 cups water. Add all the chopped vegetable, sprouts and peas to the boiling water and cook for 5 min.

Then add the upma mix and cook for another 5 min and finally add chopped coriander to it and serve hot.