Broken Wheat Upma- Start Your Day With A Sumptuous Breakfast!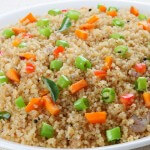 Broken wheat or Dalia is known for its wholesomeness. It provides regular nutrients that are much needed in our meals like manganese and fibre. These healthy components greatly help in detoxification and weight loss.
However, most of avoid it because of its husky taste. But what if we could prepare it in a way that suits our taste and favouritism. Broken wheat upma will give you the tinch of spices with the flavours of the vegetables just the way you love!
1/2 cup Cracked wheat (Roasted)
1 onion (Chopped finely)
1 Green chilli ((chopped finely))
1 inch Ginger ((piece finely chopped))
3/4-1 cup Mixed vegetables ((carrot, beans))
handful Fresh Peas ((optional))
For the seasoning
1/2 tbsp oil
1 tsp Mustard seeds
1/2 tsp Urad dal
few Curry leaves
Preparation
Use roasted broken wheat or roast it in medium flame till slightly hot to touch.
Chop the vegetables finely. Cook peas separately with a little salt till soft. Keep everything aside.
Method
Heat oil, add mustard seeds, when it splutters, add urad dal and curry leaves.

Then add finely chopped onions, ginger, green chillies and sauté till onions turn transparent.

Then add all the vegetables and cook for a further 3-4 minutes.
Add 1 cup + 2 tbsp of water, needed salt, peas and bring water to boil.
Simmer the flame, add the dalia slowly, stirring continuously to prevent it from forming lumps.
Cover and cook on low flame, stirring in between, till all the water has evaporated and it becomes soft. (You can sprinkle water if needed in between).
You can serve broken wheat upma with chutney and sambar (OPTIONAL)
Learn: 8 Natural Home Remedies to Lose Weight