How to make Choco Protein Dessert Recipe?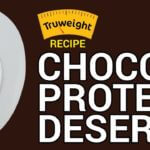 Are you the person who often has sweet cravings and you start gorging on chocolates to satisfy your cravings?
This chocolate dessert recipe will tempt your taste buds to the core made with Possible Shake-a-day, a delicious chocolate flavoured drink. With the added goodness of fruits and nuts, this recipe is a must try!
1 sachet Possible Shake-a-day
50 gm Apple medium
50 gm Banana (small)
50 gm Pomegranate (small)
1 tsp Nuts (chopped)
10-15 ml Low-fat milk (boiled)
Mix a sachet of shake-a-day with milk. Mix it until it becomes thick. Pour into a dessert glass and keep aside for 10 mins.

Mix the pomegranate, chopped banana, chopped apple, nuts and sprinkle pomegranate seeds into the Choco shake layer.

Refrigerate for half an hour and serve cool.