Healthy Mac and Cheese Recipe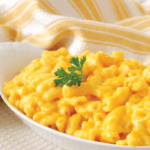 Why we like Mac and Cheese?: Macaroni and cheese or simply, mac and cheese, one of the most popular dishes of English origin, is everyone's favorite. It's a simple dish made with macaroni (bent and tubular pasta) topped with a thick white sauce made with cheese.
It all started long back with depiction given in one of the oldest medieval cookbook- Liber de Coquina, written at the beginning of the 1300's. Here, they've mentioned baked recipes of pasta, named de lasanis, with cheese sauce in it.
Another book, written in 1390, The forme of Curry, described a cheese and pasta casserole known as Makerouns, comprising of hand-cut pasta with a double layer of mixed melted butter and cheese.
The modern dish of Mac and Cheese came into existence with Thomas Jefferson, who found his fondness for this dish while his stay in Italy that he returned back to Virginia, with a pasta machine.
Since then, no look back at this dish witnessed many eras of ups and downs. It even became a common man's food during the period of the Great Depression and World War II in the US and Europe.
Over the years, Mac and cheese has become a go-to recipe for comfort food (even in India) with variations in cheese or pasta types. Today Mac and Cheese comes to you from homemade recipes to gourmet versions.
Here's how you make tasty and healthy Mac and Cheese
2 cups Uncooked Macaroni/Whole wheat or Multigrain macaroni
1/4 head Cauliflower head
1 medium Carrot
1 tbsp Garlic
1 tbsp Green peas boiled
1 tbsp finely chopped basil
1 cup Vegetable stock
1 tbsp Whole wheat flour
1 cup Toned milk
1 cup Cheese (of choice),shredded
1/4 cup Parmesan cheese
Roughly chop all the vegetables and add into vegetable stock. Boil for 5-7 minutes till vegetable becomes tender.

Puree these veggies in a food processor.

Now, transfer the puree into saucepan and heat to simmer.

Now, add full cream milk, garlic, and cheese. Heat it on low medium until cheese melts.

In another pan, cook the pasta as instructed on the packet.

Once pasta cooked, add it into the saucepan with cheese sauce and mix well.

Take it out on a microwave-resistant serving dish and sprinkle the parmesan cheese.

Bake it for 12-15 minutes at 180℃, till the cheese melts and the top is golden.
Nutritional Benefit of Mac and Cheese
As per the United States Department of Agriculture, 2012, the nutrient value of prepared Mac and cheese is shown in Table 1.
Table 1: the Nutrient value of 1 cup of Prepared Mac and cheese (Household USDA Foods Fact Sheet, 2012)
| | |
| --- | --- |
| Principle | Nutrient Value |
| Calories | 405 Cal |
| Total fat | 17 gm |
| Carbohydrate | 49 gm |
| Dietary fiber | 1 gm |
| Protein | 9 gm |
| Calcium | 20% of DV* |
| Vitamin A | 15% of DV* |
| Iron | 15% of DV* |
(*Percent Daily Values are based on a 2,000 calorie diet.)
Childhood is a growing stage where good calories with protein and micro-nutrients are necessary. Mac and cheese is a good source of protein, minerals like Copper, Magnesium, and Zinc. If prepared from whole wheat pasta, it also supplies a good amount of fiber.
Get FREE Health Consultation Today!