Immune Boosting Tea Recipe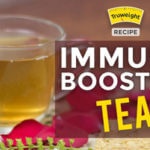 Tulsi, also known as holy basil, has incredible health benefits besides having a religious significance.
It helps in improving your immunity and keeping diseases like asthma, lung disorder etc. at bay.
This healthy concoction contains the richness of Tulsi with complementing taste of cinnamon and honey.
200 ml Water
5 – 6 nos Tulsi Leaves
1/2 tsp Cinnamon Stick(Powdered)
1/4 tsp Green Tea
Take water in the tea vessel, add tulsi leaves and crushed cinnamon stick and boil.

Once it starts boiling, turn off the gas and add the green tea leaves. Strain the tea and add honey. Serve it hot!