Mattar Coriander Poha Diet Recipe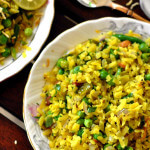 Poha, a traditional breakfast recipe is healthy on many levels even though it is made with rice. The main ingredient of Poha is flattened or beaten rice.
It is considered as one of the good sources of iron since it is processed in iron utensils. In addition to iron, beaten rice is also a source of vitamin C, vitamin A and calcium.
Peas, on the other hand, is a good source of manganese, copper, vitamin K, thiamine among other micronutrients.
50 gm Red Rice Poha
20 gm Carrot
20 gm Matar
1/2 tsp Mustard
1/2 tsp Turmeric Powder
1 tsp Gren Chillies
1 tsp Ground Nuts
1/2 tsp Chilli Powder
1/2 tsp Oil
1 tsp Lemon Juice
Curry Leaves – A few
Coriander Leaves – A few
Salt – (To taste)
Place the pan over flame and add oil into it.

Add brown mustard seeds in oil. After sauteing brown mustard seeds, add curry leaves, chopped green chilies, finely chopped carrot and green peas in the pan. Saute for 1-2 minutes.

Now add turmeric powder, salt. Mix all ingredients really well and add Possible's Red Rice Poha as well. Cook until all ingredients are mixed nicely.

Turn off the flame and mix lemon juice and a few coriander leaves with the poha.