Tangy Mint Coriander Chutney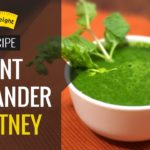 Introducing the good old mint and coriander chutney which provides that 'tang' to the chats and a great piquancy to the sandwiches. Why does it feature here?
Because of its tremendous health benefits. The benefits of coriander leaves do not restrict to just digestion.
They help in reducing inflammation, reducing the risk of anaemia, helps treat diarrhoea, mouth ulcers among many.
Mint boasts of having the highest antioxidant capacities of all foods. So dig in folks!
20 gm Coriander Leaves
10 gm Mint Leaves
1 no Green Chilli
1 no Ginger
1 tsp Lemon Juice
Salt – to taste
Water – as required
Put all the ingredients in a blender and blend them well.

You are ready with your Tangy Mint Coriander Chutney.