Spicy Chapati Noodles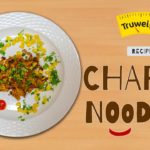 There is nothing we like more than a plate of piping hot noodles. And what if you were told that you could make this favorite Chapati noodles. It is a great alternative to your left over chapatis. It is perfect for lunch, brunch or also you can pack it for office lunch. Try this yummy recipe!
2 Possible hi-protein atta chapatis
1 tsp Oil
3-4 pods Crushed garlic
50 gm Onion
2 nos Green chilies
30 gm Boiled corn
50 gm Capsicum
50 gm Carrot
50 gm Cabbage
2 tsp Tomato sauce
2 tsp Chili sauce
1/2 tbsp Red chili powder
1/2 tbsp pepper powder
salt to taste
1/2 tsp lemon juice
1 tsp Soy sauce
Method of preparation
Cut the chapati into long pieces.

In a pan heat oil and add the crushed garlic, onion, green chilies, boiled corn, capsicum, carrot and cabbage. Mix well.

Add tomato sauce, chili sauce, red chili powder, pepper powder, lemon juice and soy sauce.

Add the sliced chapatis and mix well for 2 mins.