Moong Dal Recipe With Video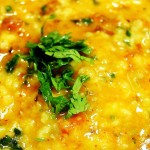 This traditional moong ki dal recipe is our personal favourite. Not only does it double up as comfort food (homemade, maa ki haath ka khana) but it also makes for a nutritious meal.
They are rich in soluble fibre which helps manage a host of health conditions.
Dig into this all time classic recipe and treat yourself to some of the goodness. Thank us later!
1 cup skinned yellow moong dal
1-2 green chillies, finely chopped
A piece of ginger, finely chopped
1 tsp cow ghee or oil
Asafoetida (Hing) powder to taste
Salt to taste
1/4 tsp cumin seeds
Red chilli powder to taste
1 lemon
Coriander leaves washed and chopped
Wash the dal in several changes of water until there's no trace of cloudiness. Let it soak for a few minutes, while you prepare your garnish and seasonings.

Boil the dal with green chillies, ginger, turmeric powder and salt.

Heat the ghee in a pan, add hing, cumin seeds and red chilli powder.The spices will let you know when done (they will darken and hit your nostrils almost at once).

Time to fling them into the pan of dal. Give it a good swirl. This dal will taste nice with a little lemon juice added into it at the end and garnish with coriander leaves.
We can go on and on about the health benefits of palak or spinach. Low in fat, spinach is instead high in nutrients like niacin, zinc, protein, fibre, vitamins A, C, E and K, thiamin, vitamin B6, folate, calcium, iron, magnesium, phosphorus, potassium, copper, and manganese.
Imagine this powerhouse ingredient in combination with a potent protein source, namely dal! It makes for a very nutritious offering!
Gone are the days of the regular dal, make this wholesome, healthy, and very easy palak moong dal recipe today.