Paneer Choley Fried Rice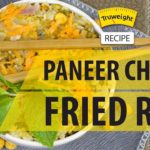 Paneer is a good source of Protein, Vitamin B12, Potassium, Selenium, Vitamin D, Riboflavin, Calcium, and Phosphorus whereas, choley known as chickpeas is high in nutritive value. Chickpeas are known to be an effective natural aid for weight loss due to their high fibre content. It has other nutrients that include thiamine, magnesium, and phosphorus. Chickpeas are low in Glycemic Index, making this legume good for diabetics. Chickpeas nutrition with all their protein and vitamins help to increase satiety, boost digestion, help keep blood sugar levels stable, increase protection. Try this healthy recipe that will keep your body healthy and fit!
50 gm Cooked choley
50 gm Paneer
1 cup Cooked brown rice
1 tsp Oil
1 tsp Cumin powder
1 tsp Garam masala
1 tsp Amchur powder
1 tsp Chili powder
1 tsp Turmeric powder
Salt to taste
Coriander leaves a few
Method of preparation:
In a pan heat oil, add cumin powder, choley, and saute.

Add paneer, garam masala, amchur powder, chili powder, turmeric, salt and shake it.

Add the brown rice, and saute it.

Garnish with coriander leaves and serve hot.