Stuffed Ragi Pancake Recipe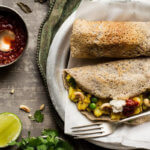 Fancy an English breakfast like the royals but afraid that the pancakes/waffles made of refined flour may put your health goals out of gear?
Behold! We present the recipe of stuffed ragi pancake for all you health conscious people. This delectable vegetable stuffed ragi pancake will provide the necessary fill of fiber.
Enjoy this desi ragi pancake either as breakfast or as lunch!
1/2 cup Ragi flour
1/4 cup Rice flour
1/4 cup Spring onion whites, chopped
1/4 cup Spring onion greens, chopped
5 grams Shredded sprouts
1/4 cup Shredded carrots
2 to 3 cloves Chopped garlic
Chopped coriander leaves
Dry red chili flakes
Turmeric powder
Salt to taste
1 tbsp Oil
Soak the ragi in water overnight.

Wash, drain and grind to a smooth paste using a little water.

Add the rice flour, salt and mix well. Keep aside.

For the vegetable stuffing, heat the oil in a pan. Add the garlic, dry red chili flakes, spring onion whites, turmeric powder and fry for 3 to 4 minutes.

Add the sprouts, carrots, spring onion greens, coriander leaves, and salt. Mix well while frying for another 2-3 minutes and keep aside to cool.

Heat a non-stick tava (griddle) and grease it with a little oil.

Spread an even layer of the batter to make a 125 mm. (5″) pancake.

Cook on both sides till golden brown, using a little oil.

Spread the stuffing on one side of the pancake.

Fold to make a semi-circle.

Repeat with the rest of the batter and stuffing to make 5 more pancakes. Serve hot.
As per the taste, preference and seasonal availability, you can be innovative and create varieties. Bring twist by adding other vegetables like green peas, green leafy vegetables, paneer, and nuts, etc. Relish hot and crisp with home-made chutneys or ketchup.
Get FREE Health Consultation Today!