Siddharth Arun Deshpande is a 35 years old IT consultant from Maharashtra.
Although he wasn't facing any major health concern, Siddharth's increasing weight was definitely something he was worried about.
It was this reason that motivated him to follow the Possible program activities that led him to lose 17 Kgs in just 5 months.
See what Siddharth has to say about Possible and his weight loss journey.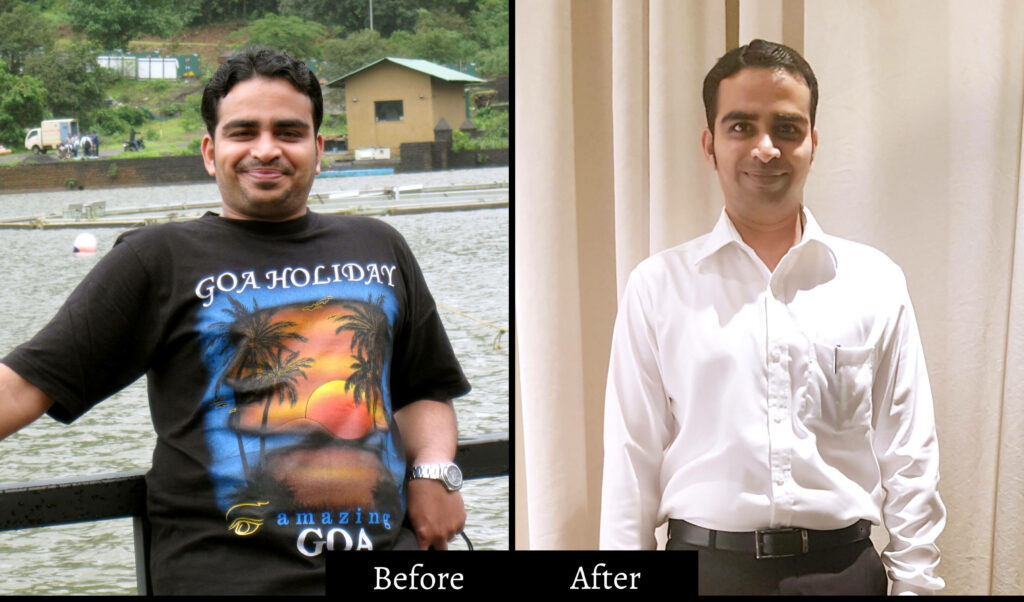 Q1) What health problems (if any) were you facing before you approached Possible?
Ans:- Although I wasn't facing any health problem, my increasing weight was becoming a concern for me.
Q2) How has Possible been different from other weight loss companies you went/tried before?
Ans: I didn't try any other weight loss program/company before, so I am not sure about this fact.
But yes, I absolutely agree thatPossible helped me achieve my dream weight and I recommend it to everyone who is willing to shed those extra KGs.
I believe this program is very economical considering the fact that every penny one pays is utmost useful.
This program doesn't talk about Calorie count of any food insteadPossible has come up with Health Price of every food which I believe is unique concept apart from any other weight loss programs available in the market.
Q3) What was the best thing you liked about Possible?
Ans:- The best part about thePossible program is even though you are on a weight loss program, you would never feel hungry, craving in or dull and you are absolutely sure that you are eating healthy always and that too without compromising on your taste buds, then what else is needed for weight loss?
TruWeight believes in eating more and losing more weight.Possible teaches us how to eat healthily and the idea of health dollars we save, during the program, is donated to a child in the form of meals is very kind and humane.
It motivates us to be committed and sincere with the program.
Parties/eating in restaurants for one or the other reason are no doubt integral part of everyone's life nowadays but this program teaches how one can Detox their body after having party/cheat meal.
After all, everyone likes eating their favorite food and it might not be healthy always but at the same time, eating it within a certain limit is not going to ruin everything.
So, apart from all other benefits which come with weight loss, another best part I believe is thatPossible program teaches you about "what", "when" and "how much" to eat.
I learned this during the program, it teaches you a lot of facts and clears a lot of myths around Calorie count which all other weight loss program talk about.
Q4) How do you feel after losing all that weight? Has your health, confidence, fitness levels improved after you lost weight?
Ans:- After shedding that extra KGs and almost losing all the bulges around the belly, I am absolutely feeling that I am on top of the world at the moment.
Wherever I go, every person who knew me approaches and asks secret behind this transformation that has happened and I take no time explaining them aboutPossible program.
Now, I am absolutely ready to play with my 1-year-old son without getting exhausted and compromising on spending quality time with him and my family.
I didn't have any health issues before beginning the program but yes my fitness level has improved a lot. I can climb stairs for few floors without getting exhausted.
I have already referred 7 more people to this program and they have started noticing the results in themselves after their enrolment, few of them had already tried few other programs without any successful results;
Now every one of them is absolutely thanking me and still, I am receiving a lot of inquiries.
This is another goodie thatPossible provides, you get a voucher of INR 2000/- as referral bonus upon referring someone and you can redeem this voucher on their website ordering their Superfoods whichever you want.
And after your successful story, I am sure you would at least get 3-4 referrals.
Q5) What is your take on Superfoods?
Ans:- I believe Super foods provided byPossible help one get all the nutrients that the body requires. 
Superfoods prepare the body for weight loss and help one achieve sustainable weight loss and above this, all of them are very tasty, be it 3 gain protein rich Upma, Quinoa Dal Dosa, Mightly Millet Idli Mix or Protein/Flax Seeds laddoos;
Everything is absolutely tasty, so you don't have to compromise on eating something that's not tasty during the program.
So this was absolutely kind of the program which I was looking for as I didn't want to go for just eating boiled veggies or only green salads and keep on doing rigorous exercises.
Get FREE Health Consultation Today!
Q6) Your 3 tips for weight loss?
Ans:-
1: Trust your coach throughout and weight loss would eventually happen.
2: Don't look out for any shortcuts or machines which advertise that it can help immediately for your weight loss.
3: Prepared you to mind for losing that extra KGs which would help you to stay healthy in upcoming years of your precious life…!!
Next Read: Madhavi lost 7 Kgs and controlled her Diabetes naturally!
**Disclaimer:The testimonials mentioned above are based on each individual's experience and results may vary for different individuals.