'Maintain healthy weight' is a common advice, but what does it mean to be at a healthy weight?
It is how much you should weigh, given how tall you are and is measured by the BMI (Body Mass Index), which is one's weight (kg) divided by one's height squared (metres).
A BMI of 18.5-24.9 indicates healthy/normal weight; anything below is underweight, 25-30 BMI is overweight and above 30 is obese.
Check your BMI now before reading all about healthy weight.
Table Of Contents:
Reaching healthy weight
Dieting isn't the correct way to reach your healthy weight. In fact, many gain the weight back after they've stopped following a diet. So, how to lose weight healthily and how to maintain weight after weight loss?
The answer is a combination of these 5 healthy behaviors:
1. Exercise: Consistent and dedicated exercising builds muscle, burns calories and fat, and helps you look good while keeping the weight off.
2. Less screen use: The more time one spends in front of a screen, the more likely one is overweight/will put on weight. Replace screen time with exercise and develop healthy sleeping habits.
3. Fewer food portions: Eating smaller portions of food goes a long way in keeping the weight off.
4. More fruits and vegetables: The inclusion of fruits and vegetables in your diet fill you up with minerals, vitamins, and fibre, and also make it impossible for you to overeat.
5.  Don't skip breakfast: Breakfast supplies you with more energy, burns calories, and kickstarts your metabolism, keeping your weight and BMI in check.
Ways to maintain the healthy weight
So, you've successfully reached your healthy weight, but how to maintain current weight?
Get FREE Health Consultation Today!
If you're asking "how many calories should I eat a day based on height and weight?", you should know that counting calories is neither a good predictor of health and neither does it help with weight loss. Instead, follow the below meal and exercise plan:
Meal plan to maintain the healthy weight
Healthy eating should be a way of life, not an exception. The inclusion of fruits and vegetables in your diet, replacing sugary drinks with water, not skipping breakfast, limiting alcohol intake, and settling for smaller portion sizes, all go a long way in helping you maintain your healthy weight.
Breakfast tips: Try and make time for a healthy breakfast, which will energize you and keep you so throughout the day. Try one of these tasty, yet

healthy breakfast options

.

Lunch tips: A lunch should be balanced, heavy with at least two vegetable servings, and should be packed from home.
Dinner tips: Dinners should be equal parts vegetables, proteins (seeds/nuts/legumes/eggs/fish/chicken/meat) and carbohydrates (noodles/pasta/brown rice/bread), and should be grilled, steamed or baked and not fried.
Snacking tips: Fruits, handfuls of unsalted nuts, and plain, unflavoured Greek yogurt are some of the best options for snacking.
Exercise to maintain the healthy weight
Exercise, along with correct diet, is necessary to maintain an healthy weight. Apart from joining a fitness club or a gym wherein you can get your daily dose of workout, try and be more active and up and about, and walk to those places where you could walk but do not. If you're active for even half an hour a day apart from your workout, your job is done.
Read TruWeight's effective list of strategies to maintain the healthy weight.
Importance of maintaining the healthy weight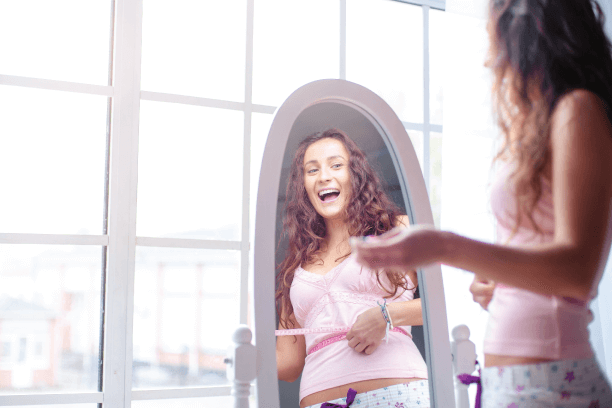 The benefits of maintaining a healthy weight are many.
Lesser risk of breast cancer and diabetes: According to studies, breast cancer chances increase almost 30-60% when one is overweight and 43% when one has abdominal fat. Diabetes could also be delayed, or even prevented if an overweight person loses weight.
Good heart health: A study says that people with BMI of more than 25 are more likely to see an early build-up of arterial plaque as compared to those with normal-to-healthy weight.
Increased fertility: Experts say that a BMI of 20-24 is required for fertility. If one is overweight, it affects both ovulation and periods.
Good sleep: People with healthy weight sleep better because it becomes easier for the lungs to expand to full capacity when fat isn't blocking their way.
Longer age: The risk of death increases by about 30% for every 15 kg of excess weight.
Help your parents maintain their healthy weight with this helpful advice.
Not only is healthy weight important, but it is also essential. Reaching your healthy weight and maintaining it the right way will help transform your body and health both
FAQs

1. How do you maintain your current weight?

Exercising by building more lean muscle, eating healthy, filling foods and avoid the temptation of high-calorie foods, planning meals in advance, measuring portions, eating breakfast and watching less TV (screens, essentially) does wonders to maintain your current weight.

2. What are some of the benefits of maintaining a healthy weight?

Apart from one living longer and looking good and exhibiting confidence, one is also at lesser risk of contracting diabetes and breast cancer, has a good heart health, enjoys a good night's sleep and doesn't experience fertility issues.

3. How do I maintain my weight without exercise?

The first question one will ask is – 'How can I maintain weight without indulging in any exercise?' The plain and simple answer is you cannot. Dieting alone will not work – correct, appropriate amount of food, and consistent exercise is important to maintain weight.
Get FREE Health Consultation Today!