The Significance of Ugadi
Ugadi marks the new year for the people of Andhra Pradesh, Telangana and Karnataka and is falling on 6th of April this year.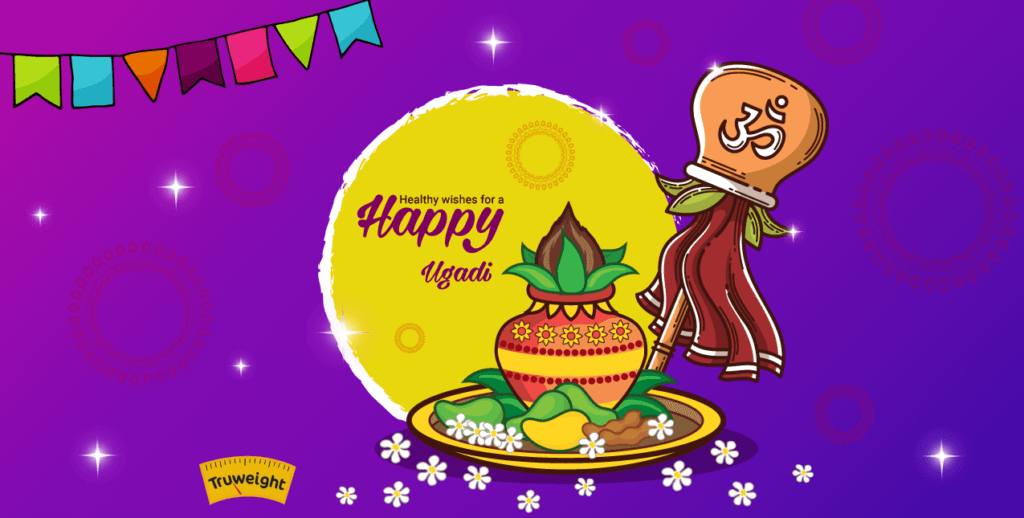 The truly diverse nation that we are, we can see its vibrant colours in our cultures, foods, lifestyles, dress sense, language and many other aspects… you name it and we have it!
Similarly, many Indian festivals are celebrated in varying styles across various states in India and celebrated with equal fervour.
Ugadi is celebrated as Gudi Parva in Maharashtra, and as Ugadi in some other states.
True to its name Ugadi or Yugadi – alternately that it is called, marks the beginning of new year.
Get FREE Health Consultation Today!
Yug (new) and adi (the beginning), falls on the first day of Chitra- the first month in Hindi calendar. On this day, the moon's orbit changes its pattern.
The festival is celebrated on the next day after the first new moon and after the sun passes the celestial equator on the spring equinox.
Ugadi Pachadi – The "Emotional" Dish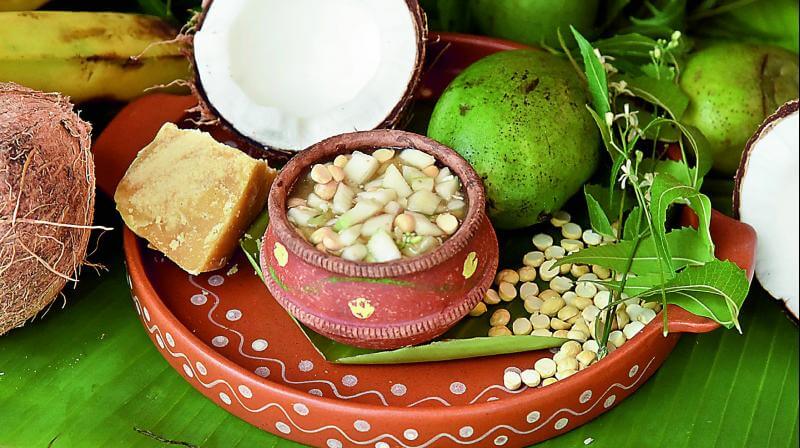 Like every other festival, Ugadi gives us yet another reason to celebrate, make merry and share our joy with our loved ones.
People start preparing much in advance and when Ugadi is finally there, they start the day by taking an early morning shower and wearing new and traditional clothes.
Ugadi is marked by preparation of a traditional dish called Ugadi Pachadi.
It is an extremely interesting dish prepared using seasonal ingredients which are treated not only as ingredients but are known to signify the various human emotions including happiness, sorrow, anger, bitterness, surprise and fear.
These ingredients are raw mango, neem [1], jaggery, tamarind and also has chilli and salt.
The dish in totality reminds us of various emotions that we experience in life and how they affect our personality making us better human beings.
The celebrations on the occasion of Ugadi are not complete until an almanac is read out of 'panchangam' by the eldest member of the family or a learned priest.
The most interesting part of the ceremony is when these elders make predictions through moon signs for the upcoming year.  
Now let us bring to you three very interesting recipes so that you can add more flavours to the already flavorful and emotional festival of Ugadi.
1. South Indian Kosambari Salad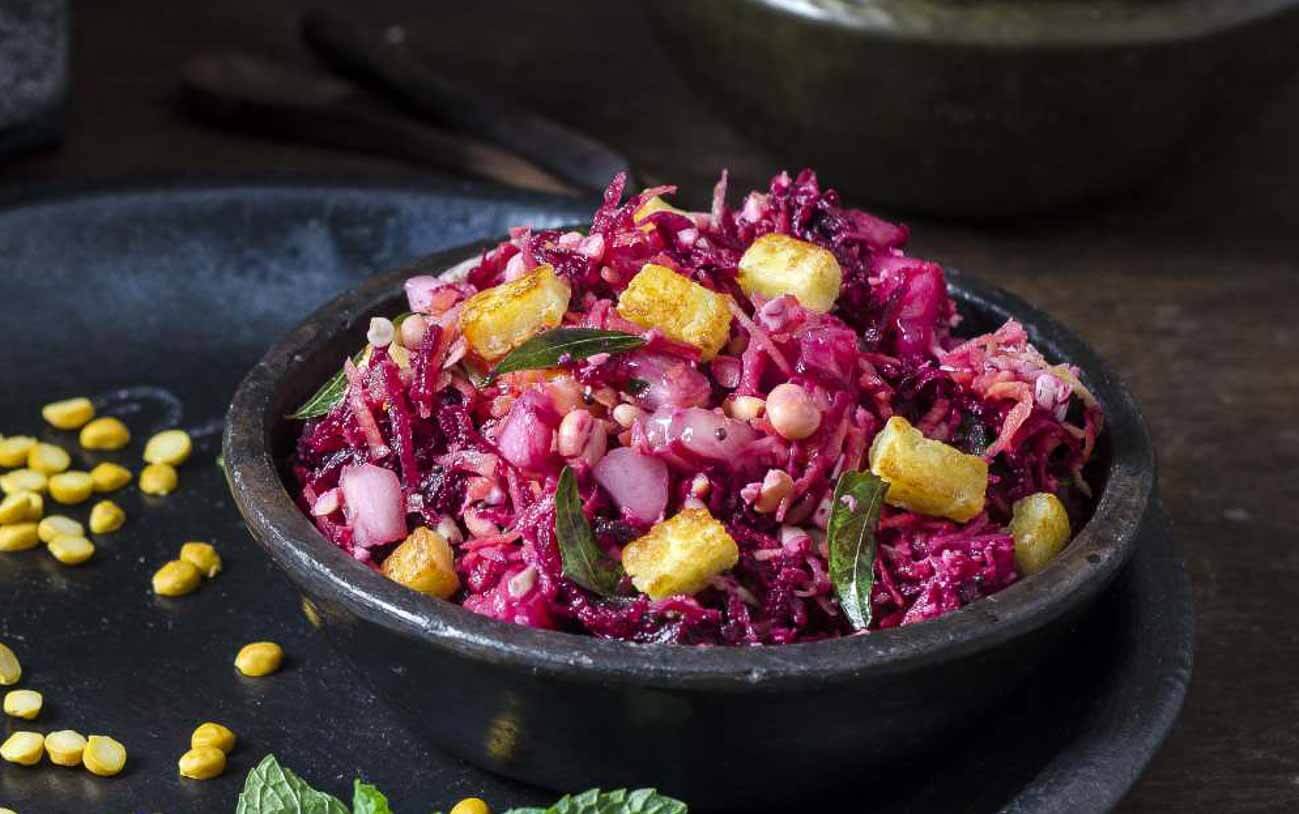 Ingredients
1/4 cup Chana Dal (soaked in water for 3 hours)

1/4 cup Grated

Carrot

1/4 cup Grated Beetroot

1/2 cup Chopped Cucumber

1/2 cup Grated Raw Mango

2 Finely Chopped Green Chillies

1/4 cup Paneer (Cottage Cheese), diced in small cubes, toasted till light brown

1 tablespoon Grated Fresh Coconut

Salt – to taste
For Tempering
1 teaspoon Cooking Oi

1/2 tablespoon Mustard Seeds

1 teaspoon Split White Urad Dal

A Pinch of Asafoetida (hing)

10-15 Curry Leaves
Method
Drain the water in which the chana daal was soaked for 3 hours and grind the daal in a mixer till it forms a course paste.

Now for the salad, mix the chana dal paste, carrot, beetroot, cucumber, raw mango, chilies and paneer cubes in a big bowl and keep it aside.

Heat 1 teaspoon of oil in a pan on medium heat.

Add mustard seeds, urad dal, curry leaves and asafoetida and let all of these crackle.

Once they crackle, turn off the heat and add the tempering to salad mixture.

Sprinkle some salt and pepper powder and mix everything well.

Garnish the salad with some grated coconut.   
Know more about Nutritious Salad: Cucumber moong dal kochumber by Possible
2. Paruppu Payasam Recipe (Stewed Lentil, Coconut Milk & Jaggery Pudding)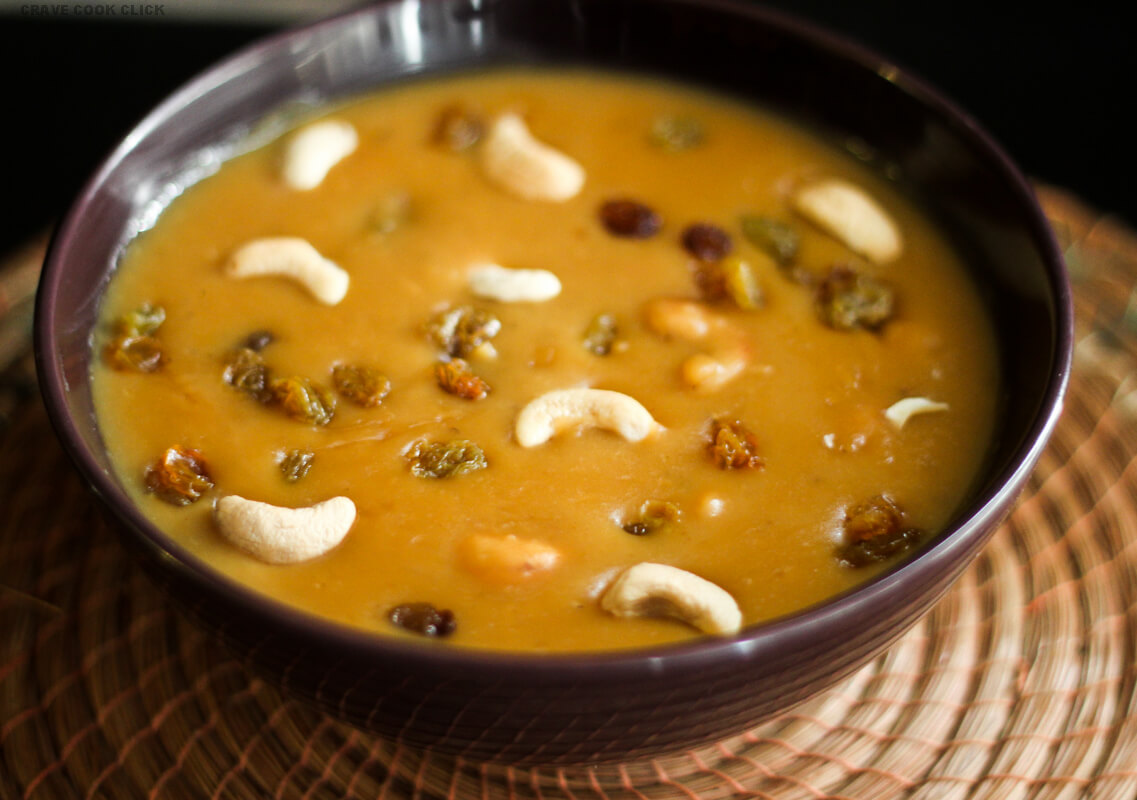 Ingredients
300 ml Milk

200 ml Coconut milk

1/4 cup Split Yellow Moong Daal

2 tablespoons Chana Daal (Bengal Gram Dal)

2 tablespoons Fresh Grated Coconut

1/2 cup Jaggery

6 Halved Cashew Nuts

1 teaspoon Cardamom (Elaichi) Powder

2 tablespoons

Ghee
Method
First heat ghee in a small pan; add the cashew nuts and roast on low heat until golden and crisp. keep aside.

Cook the Daals in 1/2 cup of water in the pressure cooker until soft.

Once cooked, transfer the daals to a heavy bottom pot. Add in the remaining ingredients except the cashew nuts. Simmer the daal until the jaggery dissolves and bring the mixture to a boil. Turn the heat to low and simmer for a few more minutes.

Finally add in the roasted cashew nuts and serve hot or cold.
3. Nuggekai Kharbyaali Recipe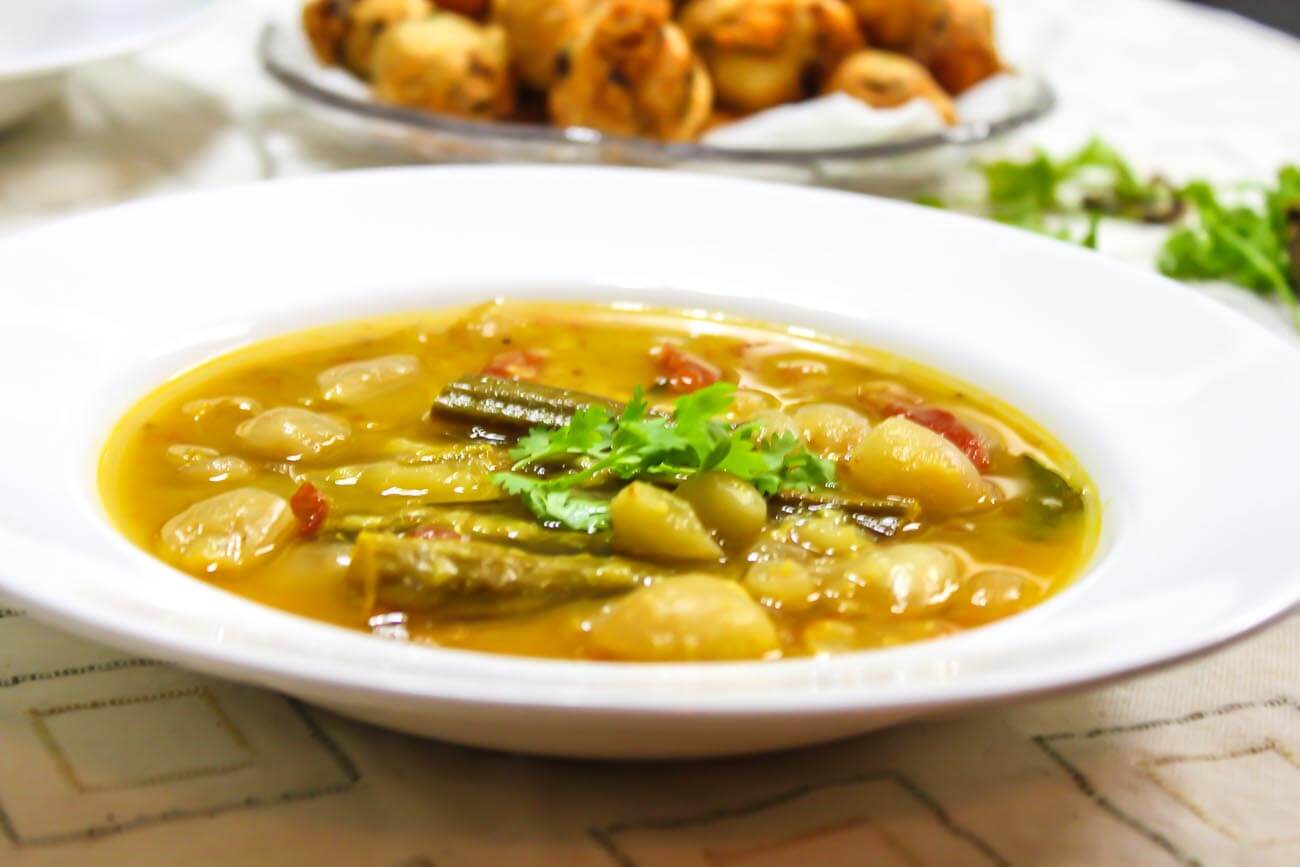 Ingredients
A cup of Split Arhar Daal

1 cup Tamarind Water

1 tablespoon Jaggery

, (optional)

2 Drumstick – cut into 2" pieces and cooked

1 Roughly Chopped Onion

3 Cloves Roughly Chopped

Garlic

2 tablespoons All Spice Powder

1 tablespoon Cooking Oil

Salt – to taste
For Seasoning
1 tablespoon Cooking Oil

1 teaspoon Mustard Seeds

1/2 teaspoon Cumin Seeds

1/4 teaspoon Asafoetida (hing)

5 Curry Leaves

Fistful of Coriander Leaves
Method
To begin with, wash and soak daal in water for few minutes. Then cook daal in the pressure cooker.

Once daal is cooked, keep aside.

Now heat a tablespoon of oil in a heavy bottomed pan over medium heat, add the chopped garlic and onion to the pan. Fry onion and garlic till they turn golden brown in color.

Add the all spice powder, cooked lentils, jaggery, tamarind water and cooked drumsticks. Stir the ingredients so that they come together.Turn the heat to low and continue to simmer the curry for few more minutes.

When the sambar is simmering, heat a tablespoon of oil in a small pan; add the mustard seeds, cumin seeds and let them crackle. Then add asafoetida and curry leaves, temper for a few seconds before turning off the flame. Add the tempering to the simmering sambar.

Turn off the heat and transfer the sambar to a bowl for serving. Garnish with chopped coriander leaves.
We hope you try these recipes on Ugadi and feed them to your family and friends. Also let us know how these recipes turned out by leaving your comments in the comment section below.
As always, we have tried to bring to you healthy and tasty recipes so that you can gorge on them without any guilt.
For more recipes, health and nutrition, consult our Possible Nutritionist today. The first consultation is on us.
Get FREE Health Consultation Today!