Medical Reviewed by R Sindhu Vas, Masters of Food Science and Nutrition
Acupressure is one of the most natural methods of healing using the power of the sensitivity of the human hand.
Apart from healing, to lose weight, it is also considered a quite safe and effective method.
When we apply acupressure points for weight loss, it involves applying pressure to certain meridian points on the body, which expels heat and moisture that provides circulation to lose weight.
Acupressure also helps in strengthening your digestive system, which in turn helps you to control your appetite, which makes it an effective mechanism to lose weight.  
10 Health Benefits of Acupressure 
Helps in losing weight.

Relieve you from stress and tension.

Relaxes your body and mind.

Increases the blood circulation in your body.

Helps in the removal of toxic wastes from your body.

Provides relief from almost all types of aches and pains.

Helps in the healing of injuries.

Rejuvenates your body and mind and increases energy levels.

Increases the feeling of wellness.

Greatly helps during delivery by decreasing labor pains.
What Makes Acupressure A Desired Way to Lose Weight?
Just imagine losing weight by applying pressure on your body! It is nothing less than magic I would say!
The entire world today is struggling with finding easy and less time taking ways to lose weight and acupressure comes as one of the most comfortable options that fit the bill.
The best part about acupressure is that it does not require you to involve in any crash diets or back-breaking exercises.
Backed with an active lifestyle, acupressure can surely help you achieve your weight goals. 
Another way in which acupressure helps to lose weight is by rejuvenating your mind and body.
Developing stress leads to eating disorders and binge eating is one of the biggest culprits when it comes to piling up the weight on your body.
Studies have demonstrated the positive impact of acupressure on releasing stress among various classes of subjects. Reducing stress levels through acupressure helps to stay away from eating disorders and maintain a healthy eating pattern. [1]
Acupressure is all about hormonal management and activating the body's cells to create a positive frame of mind

– Ketan Shah (Acupressure expert)
How to Practice Acupressure to Lose Weight?
This article focuses on the particular points present in your body, which when applied acupressure at, help in aiding weight loss.
To lose weight, acupressure has to be applied to these points after massaging on that area.
Once you have massaged and applied acupressure, you need to end it with a light massage in the same area.
For best results, you have to find a similar point on the other side of your body and massage and apply acupressure on that area. This increases the effect of acupressure points for weight loss.
6 Meridian Acupressure Points for Weight Loss
1. Abdomen Point
This pressure point is located 3 centimeters below the belly button.
When pressed at acupressure points for weight loss, it enhances the function of the digestive system and gives strength to your body.
It also helps in reducing constipation that aids the process of weight loss.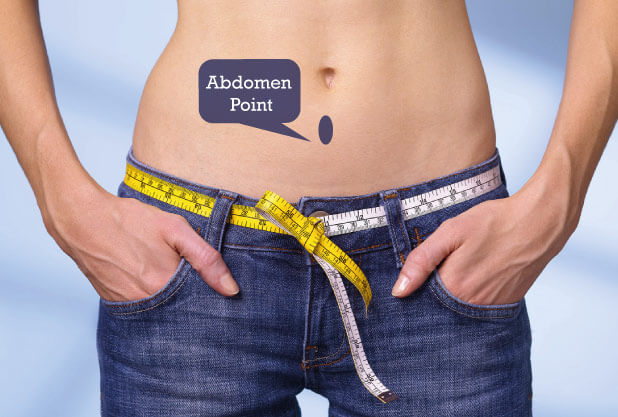 To apply acupressure on this point, you have to place two of your fingers on it and massage by moving your fingers up and down. Then press this point for at least 2 minutes twice a day.
2. Abdominal Sorrow Point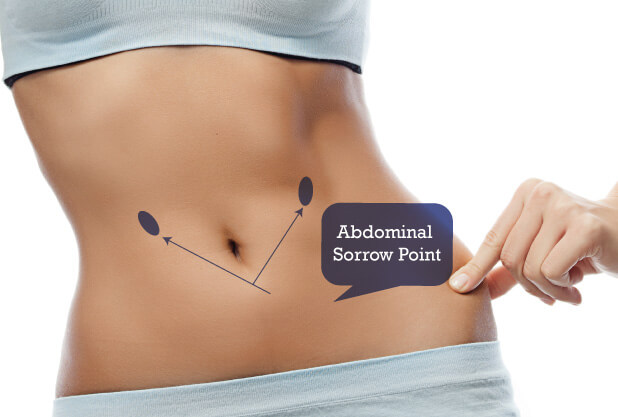 Found in line with the earlobe near the rib cage, you have the Abdomen Sorrow Point. This is usually located under the last rib and relieves you from all kinds of indigestion, ulcers, rib pain, and appetite imbalances.
To practice this acupressure technique to lose weight, you have to curve your fingers and press this point for 5 minutes every day.
3. Ear Point
To lose weight, acupressure on this point located in your ear is extremely helpful as it helps in controlling your appetite.
Also, it helps in reducing pressure around jaws and ears that help in treating symptoms of earache, ear infection, and migraine.
To do this, place your finger against the jaw and move your jaw up and down. You have to find the point that has most of the movement in your jaw and press it for a minute.
4. Knee Point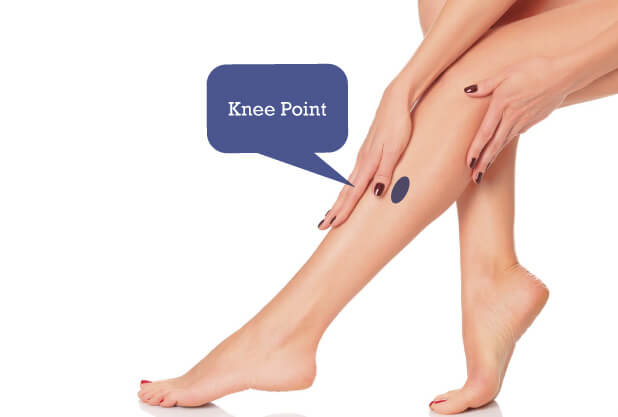 Applying acupressure points helps your stomach to function properly, by improving the digestion process and providing nourishment to the blood.
This point is located 2 inches below the kneecap on the outer side of the leg. To apply acupressure to lose weight, you have to apply pressure on this point for one minute with your forefinger.
On doing this, you will feel the muscle move under your finger when you flex your foot up and down. Press this point for 2 minutes every day.
5. Elbow Point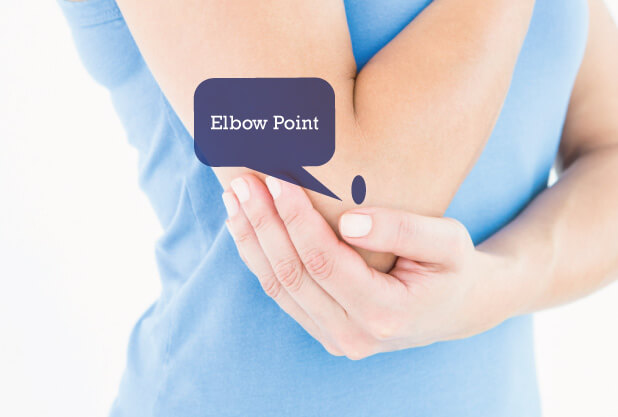 This is the large intestine point, which is found on the inner side of the elbow crease towards the end.
When the idea is to lose weight, acupressure on this point helps in stimulating the intestinal function by removing excess heat and unwanted moisture from the body.
You have to press this point with your thumb for 2 minutes every day for the best results.
6. Ankle Point
This acupressure point helps in strengthening your digestive system and helps it function better and more effectively.
This acupressure point is found on the inner side of the leg 2 inches above your ankle, just off the bone. To lose weight by acupressure on the ankle point, you have to press this point regularly for the better functioning of your digestive system.
To do so, apply pressure on the ankle point for about 2 minutes with your thumb releasing it slowly.
So here we explained to you the various techniques of acupressure points for weight loss using which you can release the energy flow through your organs, especially the ones that affect the working of your spleen meridians and stomach, which helps in weight loss.
Doing this helps in energy flow which balances the digestive system and the sudden compulsive cravings for food. And when the craving strikes you, usually you tend to binge on unhealthy snacks high on calories.
So these acupressure points play a pivotal role in your weight loss journey. The results may be slow and gradual but they will surely be long-term.
Other Health Benefits of Acupressure
Other than losing weight, you can witness other health benefits when you start practicing acupressure.
These may range from an overall feeling of well being or benefits like
Faster healing of physical and mental pains and disturbances

Calming of your muscles and mind

Increased sexual desire and energy

Toning of facial muscles

The release of muscular tension

Increased circulation of blood

A gradual decrease in medication due to increased wellness.
So start exploring your meridian points today and use acupressure points for weight loss.
The most awesome part about this is that you can easily assimilate it with any diet or workout pattern you may be following for weight loss.
For more healthy tips on weight loss and nutrition, talk to our Possible Nutritionist today. The first consultation is on us! Click here to avail it.