Stale food is often known to have a negative effect on health. In fact, food kept over 12 hours shouldn't be consumed at all as it could cause food poisoning.
Yes, in the general sense stale food lacks the nutritious ingredients that are necessary for a healthy body, but many food types including Baasi Roti contains more nutrients than what you might know about.
Since Rotis are made of just flour and water and when they are roasted, they tend to get dehydrated. Therefore they do not retain any moisture and hence have a longer shelf life of up to 15 hours.
Book A FREE Health Consultation Today!
Here are Some Amazing Health Benefits of Baasi Roti You Didn't Know About
1. Strengthens The Digestive System and Provides Relief From Stomach Problems
It may not seem so but last night's blast roti can be helpful with gastrointestinal ailments. On top of that, if you're suffering from acidity, you can always count on some stale chapatis with cold milk.
The fiber that is present in the wheat is also very helpful when it comes to digestion. It also keeps the digestive system stable and the digestive tract clean.
2. Keeps Blood Sugar In Check
Stale Roti is a great alternative to regular breakfast for diabetic patients. Just add a few chapatis to cold milk with no sugar and your healthy breakfast is ready.
If you're not keen on using regular milk, powdered milk will prove to be an even better alternative. Just remember to soak the chapatis for 5-7 minutes in the milk before consuming them.
3. Controls Blood Pressure
Daily consumption of stale roti with cold milk is proven to keep blood pressure in control. This healthy breakfast will help you manage your blood pressure if you're suffering either from high or low blood pressure.
4. Maintains Body Temperature
Feeling Feverish? Eat a few Stale chapatis with cold milk to keep your body temperature in check.
Baasi Roti is more nutritious as compared to regular roti and the added nutrition of the milk works like a charm in easing your discomfort.
Consuming Baasi Roti during the summers can help in keeping you cool and preventing heat strokes.
5. A Source of Energy
It is imperative to have a nutritious diet to have consistent amounts of energy for day to day activities. A lack of nutrition can lead to dullness and diseases.
Adding stale chapatis to your breakfast can provide you with energy as it has highly nutritious and rich in fiber.
Consuming at least one Baasi Roti will provide you with that extra nutrition and energy supply to keep you energetic all day.
6. A Healthy Addition To Your Workout Diet
Rotis will serve as an alternative to your high-calorie breakfast as stale chapatis are very low in calories and total fat. The fiber present in BaasiRotis will also help you strengthen your core and muscle mass.
7. Helps With Maintaining Weight
A regular and constrained diet of BaasiRotis will help you increase your protein and fiber intake. Baasirotis is rich in proteins which are essential if you wish to increase your weight.
On the other hand, if you wish to lose weight, you can always replace your breakfast with one or the other Baasi Roti recipes. Being low in calories and fat it will provide you with necessary proteins and other nutrients without you having to worry about weight.
8. A Rich Source of Nutrients and Vitamins
Chapatis have a low glycemic index. They are rich in Vitamin B, Iron, Calcium, Potassium, and Magnesium. In addition, they are also a rich source of good bacteria which are essential for problem-free intestines and overall health.
Wheat Rotis are also high in fiber, and those who are allergic to gluten can always opt for jowar, bajra, ragi which are even healthier alternatives. Remember these numerous benefits of Baasi Roti when you think of throwing them away!
Things One Can Do With Leftover Chapatis
By now you must be wondering how to use old chapatis to make my meals more delicious. Don't worry; we got you covered.
Here are some delicious recipes for your leftover Rotis.
1. Baasi Roti Churi
This recipe has been used by Indian mothers since time immemorial to transform that healthy leftover Roti into a tasty morning breakfast. It is recommended that you use as little oil as possible while cooking.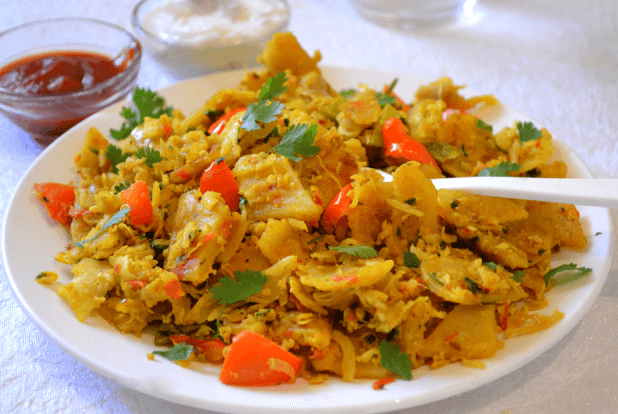 Prep Time: 21-25 minutes
Cook Time: 21-25 minutes
Serve: 4
Level Of Cooking: Easy
Taste: Spicy
What You Need:
4 leftover rotis
2 medium onion
1 teaspoon cumin seeds
Chopped ginger
Chopped green chilies 2-3
1/4 teaspoon turmeric powder
Salt to taste
Juice of one lemon
1 tablespoon oil
Sugar 1/2 teaspoon
Method:
Chop the onions and green chilies. Heat oil and add the cumin seeds. Sauté till they change color.
Finely chop the ginger and add it to the pan along with the onions and chilies. Sauté.
Add turmeric powder, salt, and sugar and mix it well.
Tear the rotis into small pieces and add to the pan. Also, add the Lemon Juice. Toss them well.
Cover and cook on a low flame till it's crispy. Serve hot!
2. Stale Roti Noodles
This is not only a way to make your leftover chapatis delicious, but it is also an innovative way to get the kids to eat the rotis and veggies.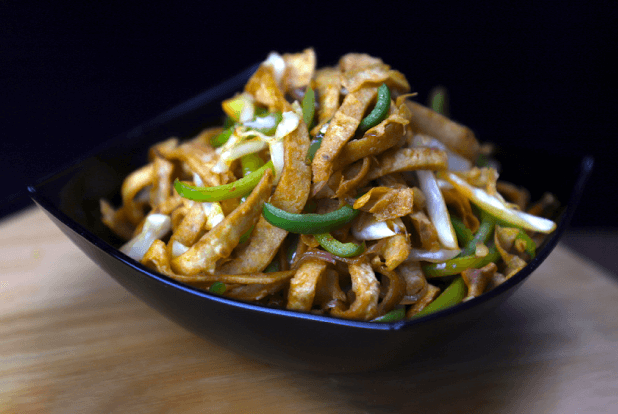 Prep and Cook Time: 30 Minutes
Yield: 2 Servings
What You Need:
6 Rotis, cut into long strips
1 onion, 1 carrot, 1 capsicum, thinly sliced
1/2 cup cabbage, shredded
2-3 green chilies, cut in slits
4-5 garlic cloves, minced
2 tsp soya sauce
2 tsp chili sauce
4 tsp tomato ketchup
1 tsp vinegar
1 tbsp oil
1/4 tsp black pepper
1/2 tsp sugar
Salt to taste
Method:
Cut the rotis into thin strips and keep aside.
Chop the vegetables lengthwise and keep aside.
Heat oil in a pan, add garlic, green chili and onions stir-fry for 2 minutes.
Now add all the chopped veggies and sauté for 3-4 minutes.
Mix pepper powder, tomato ketchup, chili sauce, soya sauce, salt, sugar, and vinegar into the pan. Let it cook for a minute.
Add the cut strips of roti or chapati.
Toss the mixture well till the strips are evenly coated with the sauces and vegetables.
Serve hot.
FAQ's

1.Till when can I eat Baasi Roti after making them? 

A. Stale Chapatis are good to eat for about 12-15 hours after you make them. However, we do not recommend eating stale chapatis after 15 hours.

2. Is there an alternative to cold milk?

A. Yes, if you're reluctant to use cold milk, you can use curd from your refrigerator. Do make sure it is cold.
Next Read: