Motherhood is an excellent experience; it renders the feeling of contentment and completeness to a woman. But alas, along with pregnancy comes the nasty weight. Shedding extra pounds seems to be a tedious task as climbing a rock.
Table of Contents:
Besides, taking care of the newborn and adjusting with the entirely new routine, often hardly leave any time with the women.
As a result, the woman generally put on a lot of weight after pregnancy which lowers her self-esteem and she shies away from social get-togethers.
However, it is essential to get into shape even after the childbirth as flab and fats are highly undesirable. Hence, you need to take care of your diet after delivery.
Reasons for excessive weight gain during pregnancy
Normally a woman gains 11.5 kg to 16 kg during pregnancy. This extra fat serves the purpose of energy reservoir for giving birth and for breastfeeding the baby.
However, it is generally seen that the women gain much more than the desired levels and often find out it difficult to lose after pregnancy.
Get FREE Health Consultation Today!
However, extra weight can be highly detrimental for the women and can lead to several problems such as the risk of heart disease and diabetes, greater complication is the later pregnancies, etc.
If you have also become a mother recently, here are a few suggestions for you to shed off a few pounds.
Do's And Don'ts of Post Pregnancy Weight Loss Plan
How to lose weight after delivery is a big question, following are the ways to do so:
1. Adopt a realistic plan:
Don't go by the claim of celebrities and stories in women's magazines as the weight loss after pregnancy is always a gradual process. Make a realistic plan on the basis of the weight gained during the pregnancy.
For example, it will be quite practical to target at losing 4-5 kg within 2 years. However, such a plan should be based on a healthy diet and exercise routine. You especially need to take care of your post-delivery diet.
2. Don't Depend upon Crash Diet:
Crash diets are a strict no, no, no. Although crash diets help in quick weight loss within a short span, it will not provide you with the nutrients needed for healing and recovering.
Moreover, while breastfeeding the baby, the body needs extra calories. Cutting down the essential nutrients, will make you feel tired and stressed.
It will be especially detrimental for your health when you have to take extra care of the newborn and you are mostly sleep deprived.
In case your weight is stable, by just cutting down 500 calories in a day (which is quite safe) you can get rid of about half kg per week. So, this is the way to learn how to lose weight after pregnancy.
3. Breastfeed the baby:
You should also know how to lose weight while breastfeeding. Breastfeeding is extremely beneficial for the baby's and mother's health.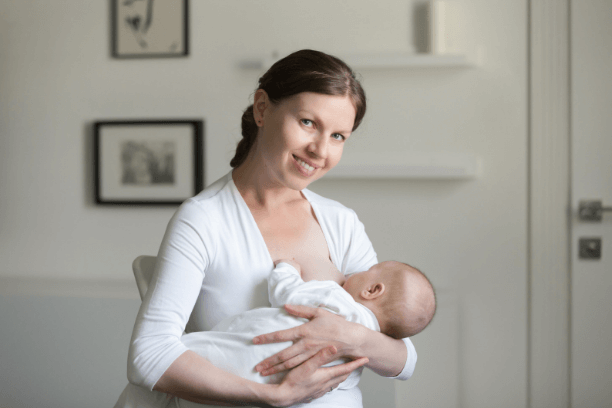 The breast milk offers essential nutrients which are extremely essential for the growth of the baby. It also enhances the immunity of the baby as it contains essential antibodies.
It is also beneficial for the mother as it lowers the risk of breast cancer, type-2 diabetes and ovarian cancer. Moreover, breastfeeding will also help you to shed a few extra kilos!
4. Eat foods rich in fibers:
We tell you how to lose weight after pregnancy naturally. It has been proved through studies that fiber-rich food helps in losing belly weight.
Moreover, fibrous food will help you in feeling fuller by slowing down your rate of digestion and lowering the craving every now and then.
Moreover, fiber-rich food such as fruits, raw vegetables, oats will provide your body with the essential minerals and vitamins which will help your body to heal quickly.
5. Select the food rich in healthy protein:
You might be thinking again and again about how to lose weight post-pregnancy. We tell you it is by taking health proteins in your diet you can boost up your metabolism.
It will also help in lowering your appetite and hence reducing the amount of calories intake. Hence, indulge in taking protein-rich diets such as eggs, lean meats, fish, nuts, legumes, seeds, dairy, etc.
6. Avoid sugary and highly processed foods:
It has been found that the sugary and highly processed food has high calories but poor nutritional count. Hence avoid food like cakes, cookies, pastries, packed juices, chips, candies, ice-cream and other bakery products.
Although, these may appear tempting, these are calorie-laden and can end up in making you fatter than ever before.
Instead of these try snacking on fruits, nuts, salads, grams, sprouts, puffed rice etc. Losing weight after pregnancy is not difficult if you avoid junk stuff.
7. Start with an exercise plan:
You can start an exercise plan by indulging in the cardio exercises such as brisk walking, running, jogging, cycling, etc. for burning the calories. Besides helping you to lose weight it will improve your overall health by reducing the risk of diabetes and many cancers.
But you should plan the exercise based on the advice of the doctor as your stomach and pelvic region needs time to heal, especially if you had given childbirth through a C-section.
The doctor may advise you to begin with the pelvic floor exercises before doing strenuous exercises which you can do only after getting fully healed.
8. Drink a Sufficient Amount of Water: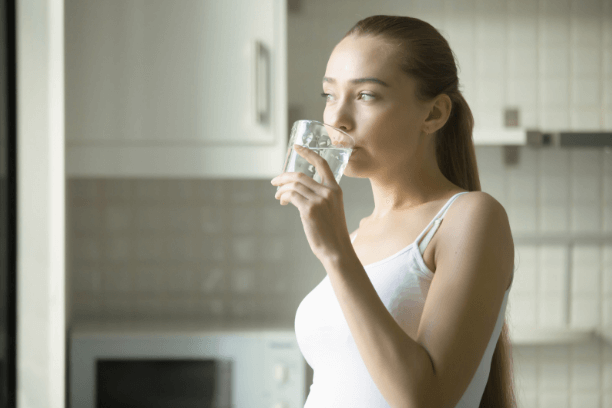 You may be surprised to know, but drinking enough amount of water is vital for attaining your weight loss target.
A study conducted through Elsevier-Journal of the Nutrition and Dietetics undertaken by Jeremy D,.Akers, Rachel A. and others in May 2012, it was indicated that along with taking fruits and vegetables, it is also important to take a lot of water for losing weight.
Hence, besides controlling the calorie intake, it is also important to take a sufficient amount of water. In fact drinking of water lowers the appetite and also calorie intake.
Moreover, it is also extremely important to remain hydrated while breastfeeding the baby for replacing the fluid lost due to the production of milk.
Generally, it is advisable to drink about 2 liters of water in a day for losing weight. Water has an important role in the post-pregnancy weight loss.
Your baby has already filled your life with laughter and fun, but you can play more with your baby only when you are fit and healthy.
Moreover, weight loss after delivery will bring back your confidence and will give you more strength for taking care of the little one. So, what have you decided to do or not to do? How about taking your baby for a stroll to the nearby park?
These were some dos and don'ts which can help you to lose weight post-pregnancy. For finding out more about post-pregnancy weight loss visit:
Get FREE Health Consultation Today!