Rigorous workout regimes can be tiring.  To regain your energy and to replenish the calories burned, it is very important to include nutritious meal post your workout. It is important to understand that physical exercises and post workout meal are a package and one cannot be effective without the other.
Here we list you the things you need to consider and incorporate it after your workout session.  [1]
Timing matters
Staying consistent regarding food timings is important for a healthier lifestyle and post workout meal is no exception. After any rigorous exercise, the body's ability to rebuild glycogen and protein is enhanced. Hence, it is generally recommended to consume carbohydrates and proteins after workouts. 
Although there is no set timing, it is better to have a post workout meal within forty-five minutes of the exercise. Similarly, if you have taken a pre workout meal, it is also going to benefit your body after the workout.
Foods to eat before a workout
Before starting your workout, it is good to eat a small amount of nutritious food to energize the body and avoid fatigue. Below are some of the recommended foods that can be considered:
Overnight soaked oats

Home-made energy/protein bars

Bananas

Fruit smoothie

Apple with peanut butter

Dates

Whole grain bread
Foods to eat after a workout
Since glycogen and protein surge after a workout, the following are some of the most recommended foods to be eaten after a workout: [2]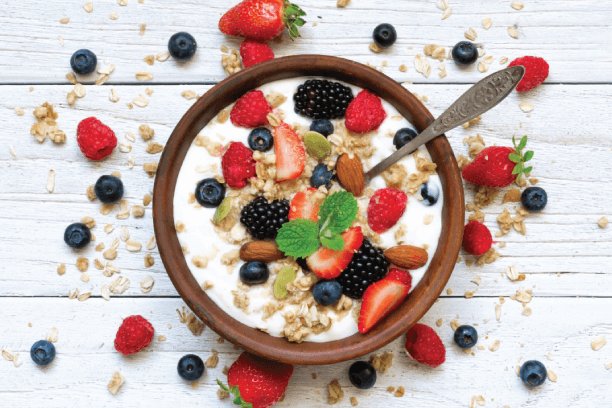 Greek yoghurt

Grilled paneer

Egg whites

Milk/ Soy milk

Nuts

Grilled chicken

Sprouts with coconut water
Meals to eat after a workout
Some of the ideal post-workout and healthy meals include:
Breakfast
Oats porridge with fruits and nuts

Bread toast with egg white omelette

Yoghurt-Fruit smoothie with chia seeds
Lunch
Mixed dal khichdi with vegetable raita

Chapatis with paneer curry, curd and salad

Paneer peas pulao with yogurt-vegetable salad

Mix grain Chapatis with palak paneer and cucumber-tomato salad
Dinner
Scrambled tofu with sautéed vegetables

Chicken soup with salad and whole-grain toast

Brown rice with rajma, onion-tomato salad

Broken-wheat Paneer Upma with bhindi sabzi and fruit shrikhand
The meals above are some of the most recommended post workout meal. Apart from that, there are others such as cereal with skim milk, Greek yogurt, berries, and granola, to name a few.
Drink plenty of water
Drinking at least three to four litres of water a day is very good for overall health and people indulging in exercises should drink even more. 
While working out, the body sweats losing its water and electrolytes. As a result, it is important to hydrate your body by replenishing it with fluids.
However, it is better to drink only water for hydration and not the likes of fruit juice. For a healthier body, it is wise to eat fruits whole. Wholesome fruits control hunger pangs and prevent unhealthy snacking between meals. 
Other popular post-workout meals 
1. Protein Popcorns
Low fat or fat-free popcorn is a popular post workout meal these days. Popcorn is the richest source of glycogen storage while a spoonful of chocolate whey protein powder can nourish the muscles after exercises.
2. Apple with Almond Butter
This is a widely popular post-workout meal these days. A plate of apple with almond butter is recommended by many fitness experts. The combination of apple and almond replenishes the weary muscles to a considerable degree.
3. Peanut Butter Banana Smoothie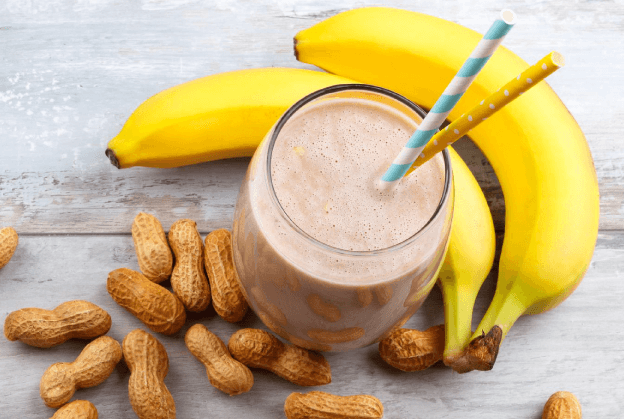 As the name suggests, this is one of the most interesting and quirky post-workout meals. Packed with protein, banana and peanut butter ensures a good deal of long-lasting energy. Add a pinch of cinnamon to make the smoothie flavoursome. Apart from that, fitness experts also recommend including useful additions to the drink like kale.
4. Sun-butter and Dates
Another rich and wholesome post workout meal is a combination of sun-butter and dates. 
Since dates are packed with potassium, it is considered a great post-workout food. Dates are also known for flushing out excess sodium and water content out of the body. [3]
Additionally, sun-butter is an important source of proteins. Since sun-butter is extracted from sunflower seeds, people with nut-allergies can consume it without any worry.
5. Turmeric and Sardine fish
After an intense exercise, it is natural for the muscles to inflame since it stores lactic acid. Including turmeric in a post-workout meal is essential since it has tremendous anti-inflammatory properties
Sardine fish is another great post-workout food.  Sardines are loaded with omega 3 and calcium apart from scores of other essential nutrients. Therefore, they are considered as great post-workout meals.
It is important to understand the fact that both post and pre-workout meals are essential for the rejuvenation of the body. However, pre-workout meals determine the consumption of a post-workout meal. If you have had sufficient food before exercise, it is generally recommended to limit your food intake post-exercise.