Medically reviewed by Shanmukha Priya, M.Phil and Ph.D. in Food Science and Nutrition
As you soak up the sun and try to beat the heat this summer, I am sure watermelon is one of your most favourites. And why not, having just a few pieces of cold watermelons cool you down.
However, today we will be talking about the watermelon seeds, which are in themselves powerhouse of numerous health benefits.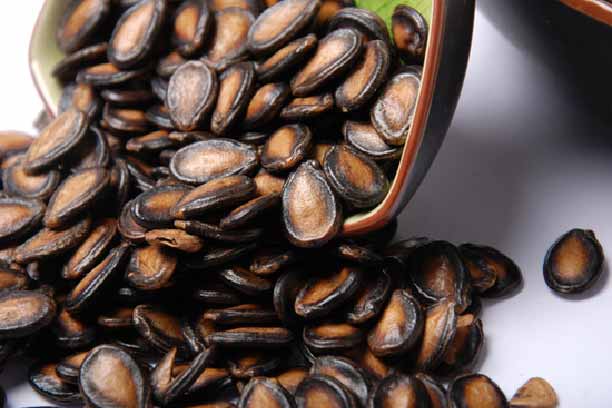 Nutritional Facts
1 ounce of watermelon seeds contains about 4 gm of carbohydrates, 8 gm of protein and 13 gm of fat.
If had in the limited amount they can be low in calories too.
Benefits of Watermelon Seeds
1. Loaded with magnesium
Studies show that magnesium deficiency often remains under-recognised as compared to other nutrients.
In a research published in the journal 'Nutrition Reviews' in March 2012, it was mentioned that about 56 percent of the American population is deficient in magnesium which also resulted in an increase in type-2 diabetes in the country.
Hence, in order to fulfil your recommended daily allowance of magnesium, watermelon seeds can be a great choice. Magnesium also helps in maintaining blood pressure and carbohydrate metabolism. All the more reasons to have these wonder seeds!
2. Blessed with healthy fats
Fats like monounsaturated fats, polyunsaturated fats, and omega-6 fatty acids are well known to help the body.
They can help in lowering blood cholesterol as well as blood pressure. Polyunsaturated fats also help the heart. And watermelon seeds contain all these healthy fats. To have them in small amount is advisable though.
3. Contains arginine
Another benefit of watermelon seeds is that they contain arginine. This is an amino acid that can help the human growth hormone which is responsible for energy boosting.
This way, consuming watermelon seeds can be helpful for athletes to maintain a vigour.
4. They have folate too
Folate is a vitamin B that help in the formation of blood cells and bone marrow. This vitamin is also helpful in reducing chances of birth defects in pregnant women.
5. Have the essential minerals
Besides magnesium, watermelon seeds also contain phosphorus, iron, potassium, sodium, copper, manganese and zinc.
These minerals help in increasing the bone strength as well as help in preventing issues like osteoporosis.
6. Packed with iron
Watermelon seeds are also rich in iron and B vitamins that are effective in boosting the immune system. One cup of watermelon seeds contains nearly about 8 mg of iron.
How to prepare watermelon seeds
Now that you know the different health benefits of watermelon seeds, here's a simple way to prepare them.
Rinse the seeds and drain them well.

Pat dry the seeds

You can salt the seeds.

Bake the seeds for about 10 minutes at 375 F

Cool them and they are ready to eat.
Not just watermelon seeds, there are different seeds that can be a dense source of nutrients. That's why Possible brings to you a smart way to incorporate seeds into your diet. Try our Seeds Cocktail today!
Get FREE Health Consultation Today!