Brown Rice Biryani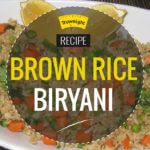 Since ages, biryani has been popular among the people and probably the most loved dish of all. The rich Indian spices used in it is what makes it apart from other dishes. A one-pot dish where rice is cooked along with succulent meat, vegetables, egg, and fish.
This recipe of biryani comes with a healthy twist where brown rice has been used. Brown rice is rich in proteins, thiamine, calcium, magnesium, fiber, and potassium. If you a lover of biryani and watching your weight, then you will love this recipe!
150 gms Brown rice
30 gms Carrot
30 gms Beans
30 gms Potatoes
30 gms Cauliflower
2 gms Marati moggu
2 gms Pepper
1 -2 Cinnamon leaf
2 gms Cardamom
2-3 gms Chili powder
2 -3 gms Coriander
2-3 gms Turmeric
1 – 2 Bay leaf
15 – 20 ml Curd
5 ml Lemon juice
2 -3 gms Green chilli
2 -3 gms Chopped ginger
2 -3 gmsgms Chopped garlic
2 -3 Chopped coriander
First, marinate the vegetables with chopped ginger, garlic, coriander, lime juice, chilli powder, coriander powder, turmeric, and salt. Mix the vegetables with the spices properly.

Boil water and add cinnamon, cloves, brown onion, mint, salt, bay leaves. Add the brown rice into it and boil it.

In the marinated vegetables add curd and then add the boiled rice to it. Add ghee, brown onion, chopped coriander leaves and cook it for 20-25 mins.
Get FREE Health Consultation Today!