Celebrating womanhood for just a day isn't enough to thank all the pretty women we are blessed with in our lives. However, dedicating a day to stop and let them know that they bring light to the world is always a pleasure.
A woman's health is one of the most important treasures that she can have. After all, a healthy woman is the prettiest. But in our nation, women's health has been somewhere ignored.
This ignorance is the very reason why women in India are facing many health concerns.
From unsafe abortions, inadequate health services, sexual abuse, deficiency of nutrients, early childbearing to poverty and illiteracy, the women folk has been not given enough importance.
And among all these health concerns, weight gain in Indian women is widespread. According to a study published by 'The Obesity' journal around 82%, couples gain 5-10 kg weight in five years of marriage.
Table Of Contents: 
Women are prone to more weight-related issues as compared to men.  That is why we as the weight management company, try to not just help our clients lose weight but also gain health with our diet plans and superfoods.
Did you know that achieving better health by modifying diet plans can help in fighting many lifestyle diseases like Diabetes as well as Hypothyroidism and PCOS which are common in women?
Talk to a Possible Nutritionist today and get a free weight loss consultation. Click here.
Get FREE Health Consultation Today!
So in order to motivate you all ladies, we bring to you 5 of our amazing ladies who did not just lose weight but proved that when a woman puts her heart to something, she definitely wins it.
1. Divya Iyer 
Divya, a 31-year-old, chemist by profession, was struggling with extreme knee pain and Varicose veins postpartum when she came to Possible.
Divya was facing a pre-diabetic condition and her weight gain was tremendously affecting her blood sugar levels.
But with a determination, Divya followed her diet plans and her dietician's advice religiously that made Divya lose a whopping 21 kgs in just 5 months.
Divya's tips for weight loss
Detox after every cheat meal

Running can take you a long way
"My health and fitness levels have improved a lot after weight loss. My knee pain has reduced and I can run again, I am more active, my HbA1C levels are back to normal and I feel more confident," said Divya.
2. Nageshwari
Nageshwari is a 51 years old woman who was in a constant struggle with her weight.
The main problem that she faced during her search for the perfect weight loss program was a way which didn't need her to starve or eat lesser which she is used to, all her life.
Following the program, she lost 16 kgs.
3. Niharika
If you think weight gain comes just with age, here's the story of Niharika, a 22 years student, was suffering from overweight issues that lead her to have a lack of stamina and Irregular periods.
Her weight gain led her to develop signs of PCOD which can be corrected with the right diet.
With the help of superfoods and constant support from Possible's Dietician, Niharika not just lost 22 kgs but also found ways to deal with her PCOD.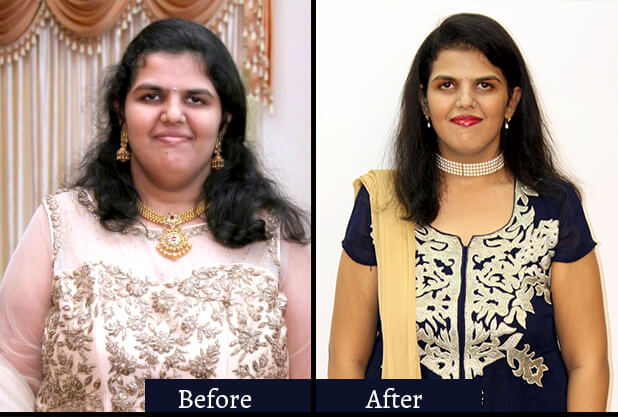 After Possible, Niharika could see the following changes in her
Lost good weight 25 Kg
My periods regularized
Reduced PCOD
My vision has improved
4. Reshmi Rajesh
A teacher by profession wasn't just facing weight gain as a health problem but was also fighting skin allergy and irregular periods. These issues were mainly due to her unhealthy eating habits.
It has been proved time and again that a good and healthy diet can be the ultimate solution to many health issues.
That is why after joining Possible, Reshmi was able to lose as much as 7 kgs and also reduce her skin allergy problem along with an improvement in her menstrual cycle.
5. Gunjan Dahiya
What does weight loss bring to a person? Besides the apparent slimmer body, it brings confidence too.
However, if you are following a weight loss program that looks out for your health too, you can win back a better version of yourself. And that what happened with Gunjan Dahiya, a 35-year-old woman from the HR profession.
Along with increasing weight, Gunjan was facing health issues like lower back l5 & s1 slip disc, weak knees and newly developed acid refluxes. By the end of her program with Possible, she lost 15 kilos in just 5 months.
Gunjan very dedicatedly followed her dietitian's instructions and keep herself motivated which let her lose 15 kilos.
"I have not once have had the acid refluxes and knee pain issues which I earlier almost had daily,

I have dropped sizes which have made me more confident, I have started weight training for toning and feel much more active!" said a healthier and lighter Gunjan.
There you go, if these women could not just fight weight gain but also triumph over it, you can too.
The important thing is to not neglect yourself. So all the ladies out there, put your health first on your priority list and find a new way to live life better.
Get FREE Health Consultation Today!
Other Articles You Might Like